Happy Valentine's Day!
Today is all about love! Love fills the air and the retail stores.
Love of spouses, significant others, parents, children, friends, and of course self-love.
How are you showing yourself love on this Valentine's Day?
Self-love can entail more than new shoes, manicures, bubble baths, wine, or chocolate.
Do you love your career?
If the answer isn't a resounding yes, then it's a full no.
I've known too many people who don't love their jobs. People who experience Sunday Night Blues and who dread Mondays. People who have come dangerously close to professional burnout and those who are currently so deep in burnout that it has damaged their performance, negatively affected their health, and disturbed their inner peace.
It doesn't have to be that way. You deserve a career that you love.
"Do what you love, the money will follow"
"If you love what you do you will never have to work another day in your life"
I don't know that I'm fully in agreement with either statement, but I do believe that when you love your work it shows up in various ways. When you love your work, you will:
Be more productive
Experience more creativity
Feel more motivated
Enjoy more happiness
Spread a little inspiration
Increase your chances of success
Give yourself a great Valentine's Day gift!
My Career Acceleration Strategy Session allows you 60 minutes of uninterrupted time with me to create a career you love. You and I will work together to generate ideas and creative solutions to your employment questions, issues or situations while developing customized strategies to help you reach your career goals. Schedule your Career Strategy Session to gain insider insight from a hiring manager and professor. This Career Strategy Session is your unique opportunity to brainstorm career advice and consider new perspectives to get unstuck, up your game, and welcome a new cheerleader to your career acceleration team. The regular investment is $297, but to celebrate Valentine's Day, you can gift yourself a Career Acceleration Strategy Session for the investment of $149 through TODAY, February 14, 2020.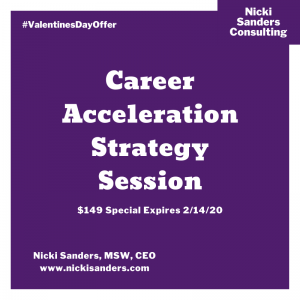 Nicki Sanders, MSW, CEO, is a travel and cupcake lover with an aptitude for authentic connection and career acceleration. She has an extensive background in developing and managing successful programs and leading high-functioning multi-disciplinary teams. She is an accomplished professor, coach, trainer, and group facilitator who has merged her Master of Social Work degree and over 20 years of diverse work experience into a thriving business. Nicki Sanders Leadership Consulting helps businesses recruit and retain the best employees and helps women in mid-level management Get Promoted to the job of their dreams.
© 2020 Copyright Protected. ALL RIGHTS ARE RESERVED.