An ambivert is a person whose personality has a balance of extrovert and introvert features. It is now believed that more people fall in this middle category. Nope, not me.
Here are a few ambivert characteristics that I don't identify with:
(1) You feel comfortable in social settings and value alone time, too [this one is true, but I would much rather be alone, it's not even close]
(2) Your energy isn't drained when you're alone for extended periods or after a lot of socializing [extended time with people drains me and I am never drained from extended alone time]
(3) Your energy is equally drained after being alone for extended periods or after a lot of socializing [it is nowhere near equal]
(4) You feel content with the plans (for example weekend plans) you make because you don't have very low or very high thresholds for stimulation [I'm known to make and then cancel plans]
(5) You are sometimes indecisive about what kind of energy you're craving [nope, never]
Introverts tend to be more quiet, reserved, and introspective. WebMD describes an introvert as a person who feels more comfortable focusing on their inner thoughts and ideas rather than what's happening externally. They enjoy spending time with just one or two people, rather than large groups or crowds. Too much stimulation leaves you feeling distracted and unfocused. Raises hand! I'm a true introvert…and a homebody. I enjoy nature but I don't want alone time just anywhere. I would rather be at home. I have always preferred being at home – even as a teen or young adult. I love to travel but I don't want a travel lifestyle. When I'm ready to go out, I'm ready to go out, but I'm always glad to return home.
I know that for many people – both children and adults – home is not a safe haven or a refuge. Because I am such a homebody (and an empath) I want everyone to have a home, not just a place to live. Addressing the housing crisis and safely housing homeless teen moms were the deciding factors in me selecting social work instead of teaching as an undergraduate student. It is also why I have such a heart for children and teens in foster care. REMINDER: May is National Foster Care Month and you can still safely support our annual Pack A Backpack Drive. We are initiating the collection of new toothpaste, toothbrushes, mouthwash, deodorant, lotion, and soap in backpacks for teens males in foster homes, group homes, and homeless shelters through May 30, 2021.
I'm also a homebody in the telework or return to the office debate. I have formed close relationships and become good friends with some of my coworkers. I literally and absolutely love many of my past colleagues, staff, and interns, but I have always exercised or offered a telework option. I was used to teleworking before the pandemic and I honestly can't imagine ever going back to being in an office outside of my home full-time. It has nothing to do with the pandemic. My big dream includes 100 acres of farmland where I live and work as the CEO of multiple onsite businesses. Living and working at home has always been my goal. I wanted to homeschool my daughter but as a young mother I couldn't figure out how to homeschool in the city and earn a living.
Are you also a homebody?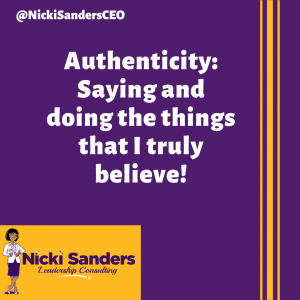 Nicki Sanders, MSW, CEO, is a Career and Empowerment Strategist who helps high-performing women of color in management go from overworked, underpaid, and unappreciated to energized, well paid, and appreciated. Through Nicki Sanders Leadership Consulting, she also helps businesses recruit, hire, train, and retain great employees. Nicki has an extensive background in developing and managing successful programs and leading high-functioning multi-disciplinary teams. She is an accomplished professor, coach, trainer, and group facilitator who has combined her gift for authentic relationships, Master of Social Work degree, and over 20 years of diverse work experience to create a life she loves. Nicki is a lover of cupcakes, travel, and 80's hip hop and R&B music.
© 2021 Copyright Protected. ALL RIGHTS ARE RESERVED.