May is National Foster Care Month. Coronavirus is still an active health threat.
For the second year in a row, I will not be coordinating large groups of volunteers and collecting donations in the same way as years past, but there are still ways that we can support teen males in foster care. There are 5 agencies that we support annually for the Pack A Backpack™ Drive and we can support them again in 2021… but in new ways.
CAUTION: I am not recommending volunteers or ambassadors collect any used donations. If you determine that you want to take the risk, please ensure that you absolutely trust the donor or have the ability to clean or sanitize items. I will not be accepting or delivering used donations this year at all.
Here are my suggestions for new ways to get involved:
Sponsor an agency – Purchase new donations then visit the agency website and follow their procedures for making/delivering donations directly to the selected agency.
Host a shower – Follow the baby shower format with your close friends and family if you are comfortable hosting small gatherings and donate directly to a selected agency.
Become an Ambassador – Collect NEW purses, backpacks, and toiletries from friends and family and deliver directly to the selected organization.
I am available to support and assist with information, strategy, and problem solving for anyone who wants to join in this new way. I will be purchasing new items and making deliveries as well. Feel free to contact me with questions related to execution. (Please don't contact me to try to convince me to change my mind because it won't work. I've thought about this long and hard.)
If you choose to donate in new ways this year…
Pack A Backpack Drive: April 30, 2021 – May 30, 2021
New backpacks, duffel bags, drawstring bags, knapsacks for teen males in foster homes, group homes, and homeless shelters filled with personal hygiene items.
The 2021 goal is 50 filled backpacks:
Toothbrush
Toothpaste
Mouthwash
Deodorant
Lotion
Soap
It is my hope that each of the 5 agencies below will receive at least 10 filled backpacks. The 5 agencies we will support are:
Hearts & Homes for Youth
Sasha Bruce Youthwork
Prince George's County Department of Social Services Independent Living Program
Family & Youth Initiative
National Center for Children and Families   
Thank you for years of support!!
The COVID-19 pandemic has not ended. Please use caution and stay safe!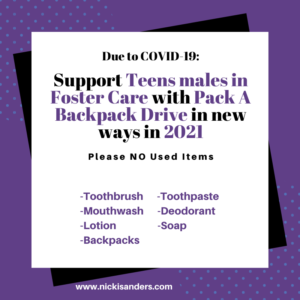 Nicki Sanders, MSW, CEO, is a Career and Empowerment Strategist who helps high-performing women of color in management go from overworked, underpaid, and unappreciated to energized, well paid, and appreciated. Through Nicki Sanders Leadership Consulting, she also helps businesses recruit, hire, train, and retain great employees. Nicki has an extensive background in developing and managing successful programs and leading high-functioning multi-disciplinary teams. She is an accomplished professor, coach, trainer, and group facilitator who has combined her gift for authentic relationships, Master of Social Work degree, and over 20 years of diverse work experience to create a life she loves. Nicki is a lover of cupcakes, travel, and 80's hip hop and R&B music.
© 2021 Copyright Protected. ALL RIGHTS ARE RESERVED.