In my article, "Are You Making These Same Mistakes?", I revealed that the three biggest mistakes I made in my career were:
Hiding in the background
Accepting low wages
Becoming emotionally attached to my job
The mistake I made in my career that fed into my business was doing work and not asking for testimonials or recommendations. I am currently correcting this huge business mistake and want to share some of the results with you.
Client Testimonials
Nicki Sanders was a pillar in my search for professional purpose. Nicki challenged me to think outside of the box and outside of my fears and doubts. In the process of building my professional toolbox she helped me to see myself in a different light. She helped me to realize that I have value beyond a dollar amount and that I have something amazing to offer in all settings. She helped me overcome my fear of public speaking while growing in my professional confidence daily. She taught me to never shrink, know your worth, maintain boundaries, and to choose yourself because it makes for a much more fulfilling life.
-Cassandra Volcy, MPA
It is a great pleasure working with Nicki. She always nudges me to the "why" of my pursuit or goal. She helps me to ask myself powerful questions and set attainable short-term and long-term goals. Her knowledge, insight, and encouragement compel me to be accountable to myself!
-Karen Woodson, BA
Working with Nicki has been truly amazing! She challenged me to think deeper about my career and what I want for my life. She gave me tools to create a portfolio and to help me see all the work I have done so that I am able to articulate my accomplishments during a job interview. I appreciate the time we spent together!!
-Aleia Mays, MSW, MPH
I love Nicki's approach to career and business development. Working with her has been essential to developing my business, discovering my niche, and understanding my audience. She used a combination of practical and creative tools, like journaling prompts and visualization activities, to help me gain clarity about my business goals and find my authentic voice. I really appreciated her ability to provide me with guidance about my career that fit my current lifestyle, while empowering me to expand in ways that would support my future lifestyle as a full-time entrepreneur. With Nicki's support, I learned how to manage multiple business projects, solidify my business brand, engage with my audience in multiple ways and set clear goals for future expansion. Now, I truly understand the importance of investing in career and business development.
-Netsenet Ghiday, Sacred Womb Works
Testimonials From Mentees:
Nicki Sanders has been extremely helpful in my personal and professional goal development over the past 15 years. She remembers small important details that are always helpful when developing and executing goals. Overall, she encourages me to listen to my inner voice and allow that voice to lead me to having an aligned, joyful, and fulfilling personal and professional life.
-Ebony Nicholson, MSW
I reached out to Nicki when I was at a crossroads in my professional career. I knew that I needed to leave the toxic work environment that I was in, but I was afraid to take the leap. Nicki regularly checked in with me and reminded me of my strengths and capabilities! I dreamed of starting my own consulting business, but I allowed fear to hold me back. Nicki reminded me that I already have the knowledge, the skills, and the tools to thrive in my career. With her encouragement, I took the leap, left my job, and began consulting. I have been blessed with opportunities to support organizations with building team dynamics and developing training material ever since. I'm so grateful for the ways in which Nicki pushed me!
-Nikole Donovan, MSW, LMSW
Nicki has been an incredible support for me. She has consistently motivated and encouraged me to work to my highest ability and to believe in myself. Nicki has provided me with guidance, resources and has given me the necessary gentle push to pursue opportunities that align with my goals. Her mentorship is invaluable, and I believe it's through her guidance that I've been able to navigate through my professional life with such success.
-Sydney Wilson, MSW
I invite you to join my Uplevel Your Position Email Course launching on May 4, 2021. I am also accepting new coaching and consulting clients and would love to assist you in securing work that fills your heart, mind, and wallet or in creating a workplace where your employees commit and thrive.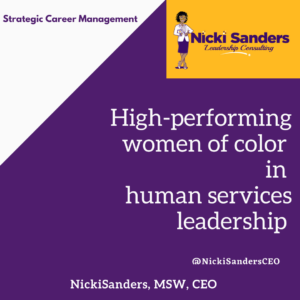 Nicki Sanders, MSW, CEO, is a Career and Empowerment Strategist who helps high-performing women of color in management go from overworked, underpaid, and unappreciated to energized, well paid, and appreciated. Through Nicki Sanders Leadership Consulting, she also helps businesses recruit, hire, train, and retain great employees. Nicki has an extensive background in developing and managing successful programs and leading high-functioning multi-disciplinary teams. She is an accomplished professor, coach, trainer, and group facilitator who has combined her gift for authentic relationships, Master of Social Work degree, and over 20 years of diverse work experience to create a life she loves. Nicki is a lover of cupcakes, travel, and 80's hip hop and R&B music.
© 2021 Copyright Protected. ALL RIGHTS ARE RESERVED.