I value collaboration and community but never believed that all work must be completed in an office environment with other people. My prayer has always been that I am able to earn an income from any place in the world. My mantra is that the world is my playground, my classroom, and my office.
Long before coronavirus altered our lives and workplaces, I was on team telework. I have not had a job where my supervisor was always onsite with me and directly responsible for assigning and prioritizing my work in over 20 years. I do not need anyone to motivate me or monitor me so that I will do quality work. Over the years I've had projects and days where I needed to work offsite to complete tasks without distraction.
For nearly a year and a half, employees have utilized self-governance and leveraged technology to pivot and get things done. During an unprecedented time in our history filled with uncertainty, forced quarantine, illness, and death, employers required that their staff turn web cameras on in their private homes, forbid care of family members, and mandated that no chores or errands are completed during the traditional workday. The insensitivity and ableism of these requirements infuriated me. Not everyone has a private home office, childcare or elder care, and people were stretched and stressed beyond belief without the additional worry of whether they would be reprimanded or terminated.
I'm Team Telework because I trust my staff to do what they are paid to do to the best of their ability and grant them the flexibility to get things done during their peak performance hours.
Employees are taking a stand and refusing to return to the hustle and bustle of long commutes, expensive clothing, hurried lunch breaks, and cliques. Let's not ignore the harm and distractions caused by water cooler gossip, office politics, microaggressions, bully bosses, or the spread of cold and flu germs. The traditions of yesterday have been invalidated. The COVID-19 pandemic has proven that telework can work successfully. Why the rush to return to the office full-time?
The COVID-19 pandemic has not come to an end. Variants are rampant and life is not back to pre-pandemic normalcy. This is not the time for leaders to ignore the needs of their employees. There are parts of pre-coronavirus life that we probably shouldn't return to. Work/life balance is more important than ever because in many ways emerging from quarantine is more difficult than beginning the quarantine 15 months ago. The world has changed. We are in the midst of a reckoning.
Well-planned hybrid schedules make sense to me – full-time office mandates do not.
Have you returned to the office? Do you plan to?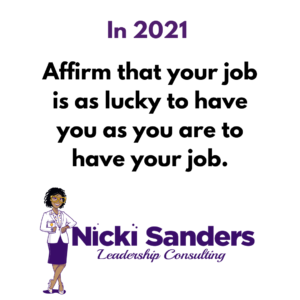 Nicki Sanders, MSW, CEO, is a Career and Empowerment Strategist who helps high-performing women of color in management go from overworked, underpaid, and unappreciated to energized, well paid, and appreciated. Through Nicki Sanders Leadership Consulting, she also helps businesses recruit, hire, train, and retain great employees. Nicki has an extensive background in developing and managing successful programs and leading high-functioning multi-disciplinary teams. She is an accomplished professor, coach, trainer, and group facilitator who has combined her gift for authentic relationships, Master of Social Work degree, and over 20 years of diverse work experience to create a life she loves. Nicki is a lover of cupcakes, travel, and 80's hip hop and R&B music.
© 2021 Copyright Protected. ALL RIGHTS ARE RESERVED.