Minds Over Latter LLC will celebrate Social Work Month and honor social workers by discussing how to Social Work YOUR way. Minds Over Matter's Social Work Month Festival will be held virtually on Sunday, March 27, 2022. I am honored to be one of two main speakers. This event is open to all which includes social workers who are licensed, macro social workers, social work students, social work supporters, and everyone in between.
The Social Work Month Festival will also have amazing panelists, vendors, and raffle prizes. This event is FREE and VIRTUAL. Please be sure to register using Eventbrite to receive event link details.
Portia S. Rouse, LCSW-C, holds both a Bachelor's and Master's of Social Work degree. She is a:
Visionary – Executing visions one dream at a time
SOULcial Worker – LCSW-C in Maryland advocating and servicing communities. Providing clinical supervision to LMSWs in Maryland
Minds Over Matter is a mental health agency that focuses on therapy (individual, group, and family), events, training, and merchandise related to health and wellness. Minds Over Matter provides educational services, namely, providing online and in-person workshops, webinars, courses in the field of mental health/mental health awareness as well as overall health and wellness. The emphasis is on Black wellness and the aim to help as many people as she can.
If you want an early dose of 'social work your way', you can join the Soulcial Worker herself, Ms. Portia S. Rouse, and me for an Instagram livestream on consulting life on Sunday, March 20, 2022, at 7:00pm. (@mindsovermatterllc_)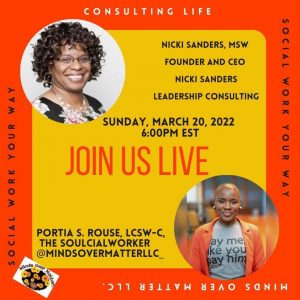 Nicki Sanders, MSW, ushers high-performing women of color in mid-level social work and human services leadership through promotion to senior leadership. As Founder and CEO of Nicki Sanders Leadership Consulting, her mission is simple – to eliminate toxic workplaces by developing skilled, empathetic, and goal-oriented leaders who have the vision, support, and resources to create a culture where business prospers, and employees thrive individually and collectively. Nicki has an extensive background in nonprofit management leading high-functioning, multi-disciplinary teams. She is an accomplished professor, coach, trainer, and group facilitator who has combined her gift for authentic relationships, Master of Social Work degree, and over 20 years of diverse work experience to create a life and career aligned with her values and purpose. Nicki is a lover of cupcakes, travel, and 80's hip hop and R&B music.
© 2022 Copyright Protected. ALL RIGHTS ARE RESERVED.