I am passionate about professional women defining career success on their own terms and exceling in their professional pursuits.
It's time to say good riddance to being overworked, underpaid and unappreciated! You deserve more!
Here's what I want for you:
I want you to see your brilliance.
I want you to document your successes.
I want you to know your value.
I want you to shine your light.
I want you to advocate for yourself.
I want you to win.
You absolutely can do all these things I listed above if you commit to yourself!
The most important component, however, is what you want for yourself.
I've spent my career listening to those whose voices have traditionally been silenced and making every effort to provide a platform for those amazing voices to be heard. The truth of the matter is that I was often silencing my own voice without realizing it.
Somewhere in my early 40's I began to say, "at this age and stage in my career you are just getting Nicki." But this confidence and liberation should not be based on age or income or job title – everyone has the right to be seen and heard and be valued for showing up fully as themselves. This is not a pass to be rude or act a fool, but a reminder that you are enough, and the world needs your gifts.
Uplevel Your Position Program IS for you if you are:
Motivated and ready to level up in your career
Goal-oriented and ambitious
Know you are meant for more
Dedicating to making a positive difference in this world
Amazing at what you do/the "go to" woman at your job
Have a degree in the human services field (social work, sociology, counseling, public health, education, criminal justice, etc.)
Uplevel Your Position Program is NOT for you if you:
Aren't sure you are ready to transition/change your current situation
Need to be convinced of your value or brilliance
Don't want to implement new strategies
My most successful clients are talented, educated, high-performing women in human services leadership who require a good pep talk every now and again when doubt creeps in. They may need a reminder that they've excelled/succeeded before and that they can do it again, but we aren't starting from scratch.
This weekend I received so much confirmation in several different ways about identity and authenticity – not all of it was pretty, but it is all relevant to my next level and how I can help usher you into your next level. I am committed to this process for both you and me.
Are you ready to invest in yourself?
The investment for the September 2021 Uplevel Your Position Career Development Program is just $484.80 in honor of my 48th birthday on 4/8 – Yes, I'm celebrating all year!
Uplevel Your Position Program Details:
Video recommendations to customize and implement each strategy
Worksheets to accompany each video and strategy
The convenience of working at own pace
A special community of participants
A decrease in career planning stress and overwhelm
Special bonuses
A private Facebook group
Two Q&A Zoom sessions (days 3 and 7)
End of the course reflection sheet
Join my Uplevel Your Position Program and let's get to work! Uplevel Your Position Career Development Program launches on September 13, 2021. Registration closes on September 7, 2021, but don't procrastinate because there are only 10 slots available. Let's Do This!!!⠀⠀⠀⠀⠀⠀⠀⠀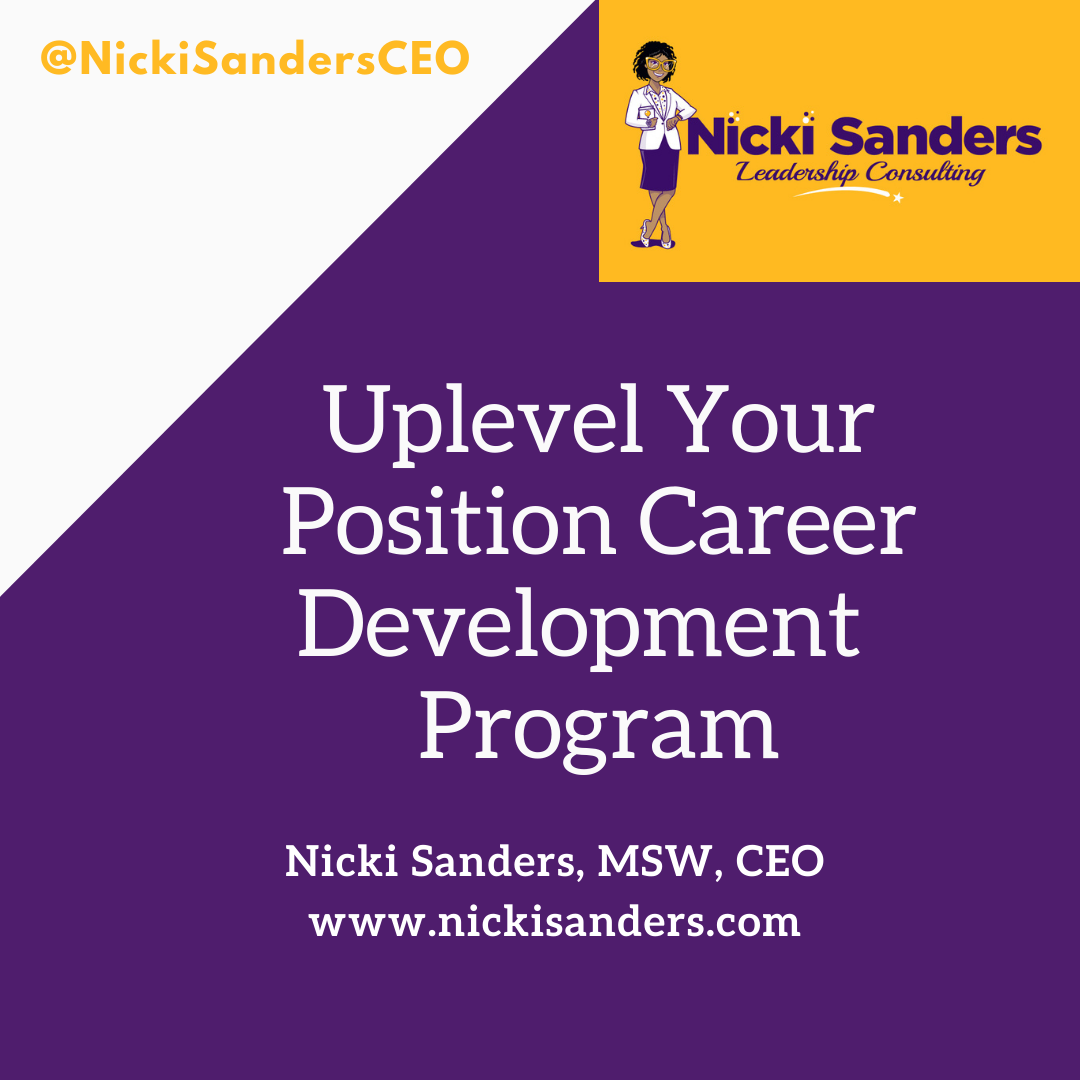 Nicki Sanders, MSW, CEO, is a Career and Empowerment Strategist who helps high-performing women of color in management go from overworked, underpaid, and unappreciated to energized, well paid, and appreciated. Through Nicki Sanders Leadership Consulting, she also helps businesses recruit, hire, train, and retain great employees. Nicki has an extensive background in developing and managing successful programs and leading high-functioning multi-disciplinary teams. She is an accomplished professor, coach, trainer, and group facilitator who has combined her gift for authentic relationships, Master of Social Work degree, and over 20 years of diverse work experience to create a life she loves. Nicki is a lover of cupcakes, travel, and 80's hip hop and R&B music.
© 2021 Copyright Protected. ALL RIGHTS ARE RESERVED.