I give 100% to my work because I only engage in work that I am passionate about. I select work that is important to me and allows me to make a positive impact. I have put together teams of highly effective, amazing and diverse professionals who inspire me and allow me to pour into them.

Truth be told, I am great at what I do. There were years when I never would have made that statement publicly, although it is absolutely true! I am not perfect but I am a fantastic manager and I'm not ashamed to toot my own horn.

For eleven years I served as Director of Programs for an award winning nonprofit that is serving 600 teen girls this school year. When I began we were serving approximately 150 teen girls. When I accepted the role I supervised one full-time Program Coordinator and one Program Consultant. Today that team includes a Senior Program Manager, one Program Assistant, two Program Consultants, interns, and six full-time Program Coordinators. I am proud of this expansion that also included signature events and new partnerships and initiatives.

I have once again made my career a priority. That required me to go back to the basics I used to build my career. I was overjoyed at the enthusiasm and responses I received when I asked for professional references (something that I hadn't done in years although I actively encourage my students and staff to request them.) Reading the recommendations reminded me that I am operating in integrity and continuing to honor my core values. This road has not been all peaches and cream, however. I have also made many common leadership mistakes in my past. Those lessons were as instrumental in helping me shape my coaching framework and practice as my successes.

Here is my truth:
I have gone over a year without updating my career portfolio.
I have provided weekly supervision to my staff while not having supervision in place for myself.
I have done amazing work and shied away from recognition.
I have not negotiated for salary increases for myself while advocating for salary increases for my team.
I have ensured that my staff are well trained while simultaneously neglecting my own professional development.
I have canceled a vacation and taken my work phone on vacation after refusing to allow my staff to do the same.
I have made friends with complacency and fear instead of taking on new projects.
I have hired people against my better judgment and taken too long to fire them.
I have experienced compassion fatigue and professional burnout.
NO MORE!! Not for me or for you!!

I am ready to assist you as you make your career a priority. Let me introduce you to my GET PROMOTED Portfolio Development Group Coaching Program that will help you build the confidence, competence, and credibility to lead with authenticity and boldness at home, at work, and in your community.
If you're ready to lead your life with intention and passion, JOIN an intimate group of ambitious women leaders to drop your Superwoman cape and package your talents, skills, abilities, and experiences to get promoted to your next BIG chapter. Are you ready?

Here is what two of my professional colleagues had to say about my leadership and mentorship:

My work with Nicki has been a pleasure! I was the project director for the company providing evaluation assistance to Crittenton Services for several years, with Nicki as my main point of contact. We worked collaboratively to develop and implement comprehensive program evaluation, with capacity-building sessions for her team. Nicki ensured that her team understood the importance of evaluation and she followed through with helping them implement evaluation components. Most importantly, she and her team took evaluation results to heart and used findings to refine and improve their programs, always keeping their focus on improving the lives of the girls reached by their programs.

Over the years, I've observed Nicki negotiate difficult situations, advocate for self-care for her staff, organize complex events, and complete evaluation tasks to meet tight deadlines–all of which were done with grace and diplomacy! -Sandy Saperstein, PhD, Lecturer, University of Maryland, College Park
Nicki is an incredible person, a great mentor, and one of the most dedicated and compassionate professionals I have had the pleasure to work with. Her work ethic is admirable, and she has a very special way of connecting with people to ensure they get what they need and not just the other way around. She's a compassionate leader whose ideas are always goal oriented with clear desired outcomes. I still contact Nicki when I need advice and know her passion is to see others succeed. -Lisette Engel, MPA, Director, National Crittenton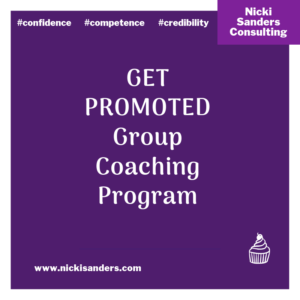 Nicki Sanders, MSW, CEO is a Leadership and Career Strategist who helps mid and senior level women leaders develop the confidence, competence, and credibility to lead with authenticity and boldness. She has an extensive background in leading multi-disciplinary teams, developing and managing programs, and forming public-private partnerships. She is a college professor with a passion for teaching and mentoring the next generation of leaders. Nicki is an accomplished supervisor, trainer, and group facilitator who has merged her Master of Social Work degree and over 20 years of diverse work experience into a thriving business. Nicki Sanders Leadership Consulting assists companies in expanding their influence and impact by enhancing employee recruitment, increasing employee morale and performance, and decreasing employee turnover.  Nicki is a travel and cupcake lover who also enjoys reading, listening to music, and serving her community.

© 2019 Copyright Protected. ALL RIGHTS ARE RESERVED.