"Together Soaring To New Business Heights"
Marvelous Managers, Successful Supervisors, is a free closed Facebook group created to help managers/supervisors/entrepreneurs/small business owners enhance their management skills and grow their businesses. Marvelous Managers, Successful Supervisors is hosted by me – Nicki Sanders. I'm a social worker and entrepreneur with a passion for teaching and community building. I've been a supervisor for over ten years. As a consultant, I specialize in helping managers increase productivity and performance by developing an internship program. I love what I do!
What do you love about being a manager or business owner?
Managing interns and employees can be an "interesting" journey, so it's great when you can connect with like-minded professionals who are on a similar path and have had similar experiences – both successes and challenges. That is what Marvelous Managers, Successful Supervisors is all about.
This group is a safe digital space for us to:
Inspire and Inform
Laugh and Learn
Empower and Encourage
Congratulate and Challenge
I want you to become a group member but before you head over to Facebook to join us, I want to share our agreements for this group. All members must agree to:
Absolutely No Negativity!
No Spamming
No Selling in The Group
Participate and HAVE FUN!
The group is for you! Please use this group as a resource. Come here to connect with other managers, share ideas and best practices, lend support, and give feedback. You will make this group a success. Your intern/employee hiring, training, engagement, retention, and advancement questions are welcomed and encouraged, so post away!
Once you become a member, please also invite other passionate managers to join the group!
Remember, we are all in the people business!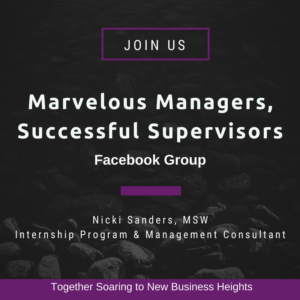 Related Articles:
Nicki Sanders, MSW, is a travel and cupcake lover with a passion for self-discovery and career advancement. She has a strong background in developing and managing interns and successful internship programs. She is an accomplished manager, professor, coach, trainer, and group facilitator who has packaged her Master of Social Work degree and 20 years of diverse work experience into Packaged For Success Enterprises, a full service training and professional development company.
© 2018 Copyright Protected. ALL RIGHTS ARE RESERVED.