Lead Like Women!
Anyone who knows me knows that I LOVE God, my family, social work, and teaching. I also love New Edition, Sesame Street, and of course travel and cupcakes. I've traveled to the Caribbean and eaten cupcakes in 14 of the 19 states that I have traveled to in the United States.
When I started my first business and blog, The Teen Toolbox, I worked with youth with emphasis on youth in foster care. I created a special feature called SPOTLIGHT Teen of the Month where I interviewed teens who were making a positive difference in their community. (Check out Sherona and Leroy.)
Following SPOTLIGHT Teen of the Month, I interviewed foster care alumni, foster parents, and teenagers in foster care for two additional special features. (Meet Shalita and Chris)
In 2018, I launched an Annual Social Work Month Blog Series to promote the social work professions, present the opportunities and diversity in the social work field, and highlight awesome women Social Workers. (Ebony and Vera shared their career paths.)
I am keeping the leadership and career conversations going in 2019 with Conversations with Nicki Sanders: Women In Leadership. Conversations with Nicki Sanders highlights the success strategies, advice, and career journeys of authentic women leaders in a variety of industries. Conversations with Nicki Sanders will:

Showcase women in leadership
Share best practices in employee and intern recruitment and engagement
Offer strategies to increase productivity and performance
Promote a healthy work environment
Encourage self-care in professional women
Sisterhood Is Self-Care!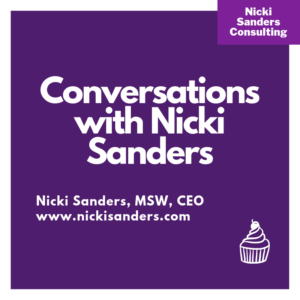 Nicki Sanders, MSW, is a Leadership and Career Strategist who helps mid and senior level women leaders develop the confidence, competence, and credibility to lead with authenticity and boldness. She has an extensive background in leading multi-disciplinary teams, developing and managing programs, and forming public-private partnerships. She is a college professor with a passion for teaching and mentoring the next generation of leaders. Nicki is an accomplished supervisor, trainer, and group facilitator who has merged her Master of Social Work degree and over 20 years of diverse work experience into a thriving business. Nicki Sanders Leadership Consulting assists companies in expanding their influence and impact by enhancing employee recruitment, increasing employee morale and performance, and decreasing employee turnover.  Nicki is a travel and cupcake lover who also enjoys reading, listening to music, and serving her community.

© 2019 Copyright Protected. ALL RIGHTS ARE RESERVED.