I am a master's level social worker with nearly two decades of experience in school-based programs. Protection of children is goal number one. Over the years, my staff and I have been required to become certified mandated reporters, submit our driving records before we were allowed to drive company vehicles, have local, state, and federal fingerprinting and background checks, be certified in First Aid and CPR, attend an Occupational Safety and Health Administration (OSHA) training, and submit a negative tuberculosis screening. I've also required additional training like advancing youth development, for example. (See the article Report Child Abuse To Law Enforcement)
Our Reality:
Code Adam search procedures and protocol is a program of the National Center for Missing & Exploited Children, a nonprofit co-founded by John and Revé Walsh, the parents of 6-year-old Adam Walsh who was tragically abducted from a Florida department store and later found murdered. The search tool is designed to help businesses, parks, government buildings and other establishments ensure that they have safety protocols in place to respond quickly and effectively to situations involving a missing child.
The September 11th terrorist attacks forever changed airline travel.
After the fear and panic caused by the 2002 DC Sniper attacks, our local schools took part in code red and code blue emergency drills.
#MeToo advocates will no longer be silent while women face sexual assault and gender inequality in the work place.
With the horrific school shootings, mass transit attacks, train derailments, mudslides, and the devastation of Hurricane Harvey, what are the safety procedures and certification requirements you have in place to protect your business, your employees, your interns, and your customers?
How might wild fires, earthquakes, floods, hurricanes, tornados, blizzards, drought or a wide spread power outage impact your business?
Do you have policies in place to prevent sexual harassment or racial or gender discrimination?
Do you have regular fire drills and a clearly posted fire evacuation plan?
Time to go beyond thinking!
Do you have an intern with knowledge, skills, or interest in human resources, disaster preparedness, emergency management, gender studies, communications, operations, management, sociology, or even policy? Let your intern help protect your employees, business and customers. Conducting a risk assessment on your business or researching, drafting, and implementing personnel and safety policies and procedures can be a valuable assignment for interns in a variety of majors.
Here are a few resources to get you started: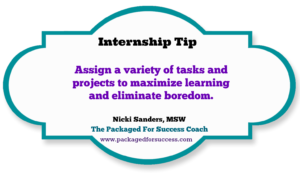 Nicki Sanders, MSW, is a cupcake lover with a passion for self-discovery and career development. She has a strong background in developing and managing interns and successful internship programs. She is an accomplished manager, professor, coach, trainer, and group facilitator who has packaged her Master of Social Work degree and 20 years of diverse work experience into Packaged For Success, a full service training and professional development company.
© 2018 Copyright Protected. ALL RIGHTS ARE RESERVED.