There was a time when you could walk into a company without an appointment and be hired after speaking directly with a hiring manager.
There was a time when mailing or faxing a resume and cover letter was the norm.
There was a time when your job competition may not be in a country on the other side of the world.
These days were gone long before the onset of the Covid-19 pandemic. Because those days no longer exist and there could be thousands of applicants for one position, it is important that your resume stands out. In addition to customizing your resume with keywords from the job announcement, I also recommend that you include measurable results from each job you've held. Employers already know the general responsibilities of the positions listed on your resume. A resume that only entails a list of duties is likely to get passed over. Numbers or quantifiable results have high impact and allow you to stand out in a crowded industry. Using metrics to create a results driven resume shows employers what you're capable of. Metrics show your value and prove your expertise. A results-driven resume helps hiring managers assess how hiring you will benefit their company.
Samples results-driven statements:
Managed $250,000 marketing budget to pay for sales-related costs for up to six months. Named employee of the month by Deputy Director due to work ethic and character
Developed a Corporate Hiring Guide which helped improve employee retention by 25% over a three year period.
Reduced the number of customer complaints by 10% in my first year.
Trained 10 interns to facilitate weekly after school program.
Managed a team of nine case managers.
How do you create a results-driven resume?
Brainstorm major achievements for each position held.
Eliminate mundane tasks and general daily activities.
Use language that shows evidence of your strengths and abilities.
Eliminate your objective and replace it with a summary of your achievements.
Creating a results-driven resume is much simpler and faster when all of your past achievements are listed in one place. This can be achieved by creating an achievement log. An achievement log is a document where your successes and accomplishments are listed. Creating an achievement log not only allows you to quickly update your application materials but also select meaningful interview stories and may even succeed in giving your confidence a boost.
Do you currently have a results-based resume or an achievement log?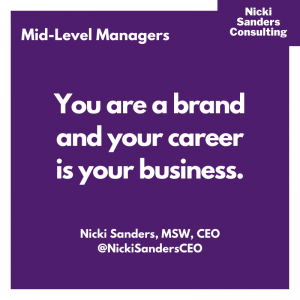 Nicki Sanders, MSW, CEO, is a travel and cupcake lover with an aptitude for authentic connection and career design. She has an extensive background in developing and managing successful programs and leading high-functioning multi-disciplinary teams. She is an accomplished professor, coach, trainer, and group facilitator who has merged her Master of Social Work degree and over 20 years of diverse work experience into a thriving business. Nicki Sanders Leadership Consulting helps businesses recruit and retain the best employees and helps women in mid-level management design the careers of their dreams.
© 2020 Copyright Protected. ALL RIGHTS ARE RESERVED.