Happy Self-Care Sunday!
Manicures and massages are great ways to treat ourselves and seem to have become a standard part of our collective self-care plan. I am on the path of making self-care a lifestyle instead of thinking of it as a set of activities. Music is an essential part of my life and lifestyle. Music is self-care for me – from record collections to cassette tapes to creating compilation tapes to compact discs to burning my own CDs to an iPod to cellphone music to Pandora then to Spotify.
I will not force my religious beliefs on you, but there are times when I will share my faith because it is important to me. I remember the last time I was physically in a church building in March 2020. As a result virtual church service, gospel playlists, and my relationship with God have carried me victoriously through this pandemic.
Victory was my word for 2020. Completion is my word for 2021. I created playlists for both.
In addition to a playlist of hymns, I have also created a playlist to affirm my faith, uplift my spirit, and focus on manifestation. I want to share my 'Expect Miracles' Spotify playlist with you. Access the playlist HERE.
Death and life are in the power of the tongue: and they that love it shall eat the fruit thereof. -Proverbs 18:21
Song List:
Open Heaven – Maranda Curtis
Speak – Myron Butler
Manifest – Jonathan Nelson
Anything Can Happen – Jonathan Nelson
Anything – Anthony Brown & Group TherAPY
It Keeps Happening – Kierra Sheard
I See Miracles – Jekalyn Carr
Great Things – Preashea Hilliard
It Belongs To Me – Juan and Lisa Winans
I Am So Blessed – Karen Drucker
Thank You God For Everything – Eddie Watkins, Jr.
I hope the playlist encourages you as much as it encourages me. Feel free to share.
Do you include music in your self-care activities? Do you create playlists? What song do you have on repeat right now?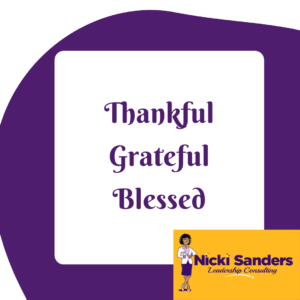 Nicki Sanders, MSW, CEO, is a Career and Empowerment Strategist who helps high-performing women of color in management go from overworked, underpaid, and unappreciated to energized, well paid, and appreciated. Through Nicki Sanders Leadership Consulting, she also helps businesses recruit, hire, train, and retain great employees. Nicki has an extensive background in developing and managing successful programs and leading high-functioning multi-disciplinary teams. She is an accomplished professor, coach, trainer, and group facilitator who has combined her gift for authentic relationships, Master of Social Work degree, and over 20 years of diverse work experience to create a life she loves. Nicki is a lover of cupcakes, travel, and 80's hip hop and R&B music.
© 2021 Copyright Protected. ALL RIGHTS ARE RESERVED.