Strategic Career Management is the lifelong process of investing resources into your career to maintain or increase your value in the workplace, undertake work that is personally satisfying, strive for work/life balance, and achieve financial security. My Strategic Career Management framework encompasses three pillars – clarity, credibility, and congruency.
What is your greatest career challenge currently?
Struggling to leverage certification or degree?
Unsure what you want to do next in your career?
Know what you want but unsure if you can achieve your career goals?
Want to be more visible in the workplace?
A boss who is a micromanager?
No growth potential in your current position?
Unsure how to improve your online presence?
Haven't remained in contact with your professional network?
Want to make a difference without losing yourself in your work?
The Uplevel Your Position Email Course launches tomorrow, May 4, 2021. Today is the last day to register if you want to join us and decrease some of the stress and frustration that can often accompany career development. I want you to have the confidence and resources to take control of your career. The Uplevel Your Position Course will introduce you to each pillar in my Strategic Career Management framework.
What Qualifies Me To Lead This Course?
Documenting the strategies I used in my own career and those offered to help friends, family, and clients build solid careers
Researching human resources, management, and career readiness including attending classes and trainings
Launching a business to provide life skills training to youth and provide workforce development to emerging professionals
Incorporating workforce development into school-based program curricula
Developing and managing an internship program
Developing a college course that included a focus on career readiness
Becoming a mentor
What questions can I answer to help you determine whether this course is for you?
Related: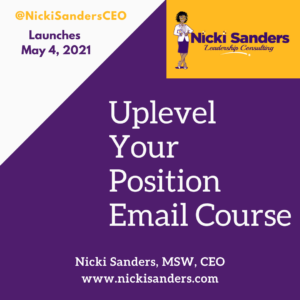 Nicki Sanders, MSW, CEO, is a Career and Empowerment Strategist who helps high-performing women of color in management go from overworked, underpaid, and unappreciated to energized, well paid, and appreciated. Through Nicki Sanders Leadership Consulting, she also helps businesses recruit, hire, train, and retain great employees. Nicki has an extensive background in developing and managing successful programs and leading high-functioning multi-disciplinary teams. She is an accomplished professor, coach, trainer, and group facilitator who has combined her gift for authentic relationships, Master of Social Work degree, and over 20 years of diverse work experience to create a life she loves. Nicki is a lover of cupcakes, travel, and 80's hip hop and R&B music.
© 2021 Copyright Protected. ALL RIGHTS ARE RESERVED.