Happy Saturday!
Happy First Day of May 2021. New Month, New Opportunities.
May 1st is Mother Goose Day.
May 2nd is Sibling Appreciation Day.
May 8th is Mother's Day.
May 3-7, 2021 is Teacher Appreciation Week
May 9-15 is National Women's Health Week
May 30th is Memorial Day.
May is National Foster Care Month.
May is National Mental Health Month.
May is Teen Pregnancy Prevention Month.
May is National Military Appreciation Month.
Pack A Backpack Drive: April 30, 2021 – May 30, 2021
New backpacks, duffel bags, drawstring bags, knapsacks for teen males in foster homes, group homes, and homeless shelters filled with personal hygiene items will be donated to Hearts & Homes for Youth, Sasha Bruce Youthwork, Prince George's County Department of Social Services Independent Living Program, WIN Family Services, and National Center for Children and Families. The 2021 goal is 50 filled bags with a toothbrush, toothpaste, mouthwash, deodorant, lotion, and soap. Contact me if you plan to participate. The COVID-19 pandemic has not ended. Please use caution and stay safe!
Uplevel Your Position Email Course Launches May 4, 2021
On May 4, 2021, I am launching the Uplevel Your Position Email Course so that I can give you a deep dive into each strategy. The Uplevel Your Position Challenge was a quick introduction to seven proven career development strategies. I understand the frustration and confusion that career planning can produce and that is the reason that I created the Uplevel Your Position Email Course. Enrolling in this inner work will lead to the outer results you desire.
Ultimate Blog Challenge (UBC): May 1-31, 2021
The basic idea is to challenge yourself and your audience to do something consistently for 31 days – it's blogging for me. That's right, I will be blogging daily this month. In April I brought you the Uplevel Your Position Challenge and in May I am challenging myself. I hope you'll join me back here each day for a new article. I've got lots to share and a special announcement once I complete the challenge. How will you challenge yourself this month?
PLEASE SPREAD THE WORD!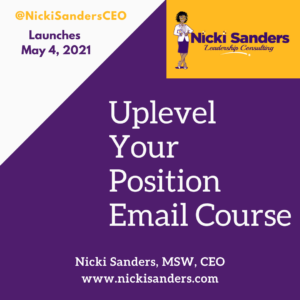 Nicki Sanders, MSW, CEO, is a Career and Empowerment Strategist who helps high-performing women of color in management go from overworked, underpaid, and unappreciated to energized, well paid, and appreciated. Through Nicki Sanders Leadership Consulting, she also helps businesses recruit, hire, train, and retain great employees. Nicki has an extensive background in developing and managing successful programs and leading high-functioning multi-disciplinary teams. She is an accomplished professor, coach, trainer, and group facilitator who has combined her gift for authentic relationships, Master of Social Work degree, and over 20 years of diverse work experience to create a life she loves. Nicki is a lover of cupcakes, travel, and 80's hip hop and R&B music.
© 2021 Copyright Protected. ALL RIGHTS ARE RESERVED.