My social media has daily livestreams and posts during the 5th Annual Millennial Social Work Conference (@millennialswc) at Clark Atlanta University Whitney M. Young, Jr.,  School of Social Work last weekend which could actually serve as a recap. Here we go:
The keynote speaker here at the Millennial Social Work Conference just referred to professionals with 10+ years of post MSW experience as being like "Church Mothers" to new and emerging social workers. The way I cackled 😂 because his description fit me to a tee.
Livestream: My mission is always to create safe spaces where people can be seen and heard.
Livestream: Social Work Tip of the Day: Personal development precedes professional development
Livestream: Whew child…new levels unlocked!
One thing I'm walking away from the Millennial Social Work Conference

is the certainty that the social work profession is in great hands!
Millennial social workers are absolutely breaking barriers!
I am so super proud of Erica (Anderson) and all that she has done to advance the social work profession. Erica is an amazing visionary and leader with a heart of gold. She deserves every accolade and great thing that comes her way.
In addition to amazing presentations, panel discussions, vendors, and keynote speakers,            Ms. Erica had a sit-down interview with the new CEO of NASW!! 🙌🏾🙌🏾
I felt like an Auntie (or Church Mother 😂) all weekend! I happily embrace this "passing the torch" phase of life.
The assignment I willingly accept is to support more leaders and let them take the lead.
6. Sessions attended:
Helping the Helper: Practical Self-Care Tools for the Millennial Social Worker – Michelle Goodloe, LCSW
Talk therapy Is Not Enough: Creative Practices for Trauma Treatment – Dr. Dorothy Adamson Holley
Social Work Stroytelling: Leveraging Your Expertise to Self-Publish Books – Danielle Fairbairn-Bland, LCSW
Licensed or Not: How to Leverage Your Social Work Skills to Build a Business – Christina Broderick, LSW/LMSW
Mental Health Implications of the Strong Black Woman Schema and How it Informs Social Work Practice – Yovanna Madhere
7. Session Presented: You Can't Pour From An Empty Cup: Self-Love Self-Care and Self-Preservation for Social Workers attended by 25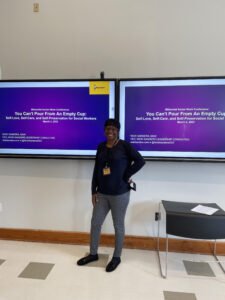 8. Vendor Goodies:
Bracelet: Creative Jazzy Jewels
Journal: Pametria Dominise
T-shirt and pin: The Millennial Money Therapist
Pins: I don't remember 🙁
Affirmation card deck: Well Together LLC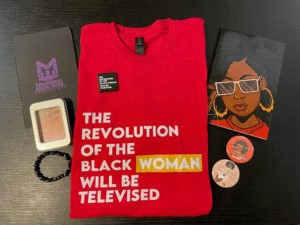 Additional pictures have been posted on my social media pages @nickisandersceo.
The Millennial Social Work Conference is always the first weekend in March – National Social Work Month. Put it on your calendar for 2024.
Nicki Sanders, MSW, supports high-performing women of color in social work leadership in developing careers that feed their hearts, minds, and wallets. As Founder and CEO of Nicki Sanders Leadership Consulting, her mission is simple – to eliminate toxic workplaces by developing skilled, empathetic, and goal-oriented leaders who have the vision, support, and resources to create a culture where business prospers, and employees thrive individually and collectively. Nicki has an extensive background in nonprofit management leading high-functioning, multi-disciplinary teams, volunteer recruitment and retention, and social impact programming. She is an accomplished professor, coach, trainer, and group facilitator who has combined her gift for authentic relationships, Master of Social Work degree, and over 20 years of diverse work experience to create a life and career aligned with her values and purpose. Nicki is a lover of cupcakes, travel, and 80's hip hop and R&B music.
© 2023 Copyright Protected. ALL RIGHTS ARE RESERVED.