Self-love is accepting yourself, treating yourself with kindness and respect, cultivating your growth and nurturing your well-being. Work is such a large part of our lives and identities that self-love must include work/life balance and career development. I believe that self-love also includes the words/names we use to describe and define ourselves.
Today I want to pose a question. "What is a lady?" Actually, I will pose a series of questions because this article is just about exploring our thoughts and feelings. I will offer you "thoughts to ponder".
"Lady or Ladies" is my 'word' – it is authentically me. I say it and write it all the time – to friends, staff, students.
Let me begin by saying that I am aware that there is sexism attached to the word lady.
Act Like A Lady, Think Like A Man – Steve Harvey
"Lady in the street, freak in the bed – Ludacris
Sit like a lady.
Ladies don't use that type of language.
I don't have enough time to tackle that today so back to our regularly scheduled program.
Think about these:
Take off your superwoman cape.
Put your big girl panties on.
Beware of the crazy cat lady.
Sales Lady or Saleswoman
Women of Color
My pet peeve is the word "female" used in a derogatory manner. The "Females always" or "I hate when females", or that's why I like dudes more than females". Unfortunately, I've heard the work used negatively by teens girls and grown women. A female isn't the essence of who I am – it is my biology. A cat or a cow can be female. Let's not forget the female dog – oh, and just so we're clear, I am from the time when that word will NEVER be a term of endearment. Describe me as a lady or a woman.
In my opinion, a lady is strong, and the word commands a certain respect. I have described myself as the Black woman with eyeglasses. Is woman a stronger word than lady?
What are your thoughts on these?
Boss Lady or Lady Boss
First Lady
Ladies Night
All My Single Ladies
Ladies and Gentlemen
I also recognize that there is slight disagreement surrounding the word.
In the eyes of some people, a lady may be sophisticated. For others, a lady may be prissy or dainty. I don't believe women have to be hard or mean or masculine to lead or succeed. I believe women must be firm and assertive but not rigid and aggressive.
Merriam Webster online defines a lady as a woman receiving the homage or devotion of a knight or lover; a woman of superior social position; a woman of refinement and gentle manners.
Dictionary.com defines a lady as a woman who is refined, polite, and well-spoken; a woman of high social position or economic class; any woman; female (sometimes used in combination)
Has your definition or expectation of a lady changed through this short exercise?
Reminder, our collective February plan is to:
Replace self-destruction with self-love.
Replace self-denial with self-awareness.
Replace self-deprivation with self-care.
Replace self-doubt with self-confidence.
Replace self-sabotage with self-preservation.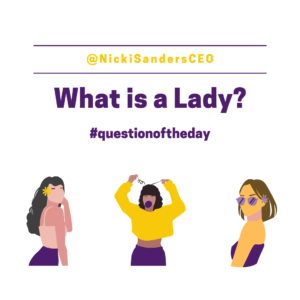 Nicki Sanders, MSW, CEO, is a Career and Empowerment Strategist who helps high-performing women of color in management go from overworked, underpaid, and unappreciated to energized, well paid, and appreciated. Through Nicki Sanders Leadership Consulting, she also helps businesses recruit, hire, train, and retain great employees. Nicki has an extensive background in developing and managing successful programs and leading high-functioning multi-disciplinary teams. She is an accomplished professor, coach, trainer, and group facilitator who has combined her gift for authentic relationships, Master of Social Work degree, and over 20 years of diverse work experience to create a life she loves. Nicki is a lover of cupcakes, travel, and 80's hip hop and R&B music.
© 2021 Copyright Protected. ALL RIGHTS ARE RESERVED.