Are you celebrating Valentine's Day this weekend?
I want to take time to show love to my super amazing clients. My clients rock and I am honored to be a part of their career journeys.
My clients are intelligent, credentialed, and experienced. My clients are passionate, dedicated, and loyal. My clients value both autonomy and security. My clients are optimistic but cautious and innovative but rational. My clients are the mentors, the "go-to" girls, and the "strong" friends.
Does this sound like you or someone you know?
These characteristics used to describe me perfectly, but they made for a very imperfect work/life balance.
My Client Sweet Spot:
Ambitious – ready to level up in her career and go after the new business, promotion, new job, or increased salary
High-Performing – overworked, underpaid, and unappreciated in her current role
Women of Color – specifically Black and Brown women
In Leadership– specifically midlevel management including Program Directors, Department Heads, Branch Managers, Team Leads, etc.
Human Services – social work, youth development, education, community outreach, public health, community economic development, etc.
You are your priority:
Join me from February 1-14, 2021, for my 14-Day 'Self-Love Includes Career Advancement' Challenge on Instagram for one tip each day that will help you increase your career preparation and opportunities. Implementation is a way to shower yourself and your career with the love you freely give to everyone else.
Self-care includes career development:
If you're an ambitious, high-performing woman of color in human services leadership who is ready to increase your confidence, expand your influence, and level up in your career, let's schedule a time to chat and determine which career acceleration strategies are best for your unique career situation and goals. My Career Journey Map Session or Career Activation Strategy Session are great first steps to set you on the course to your next level, but a customized package is also an option!
Happy Valentine's Day!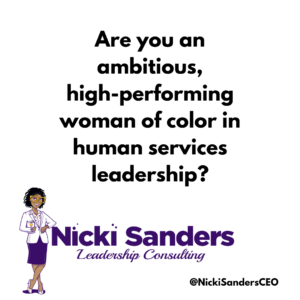 Nicki Sanders, MSW, CEO, is a Career and Empowerment Strategist who helps high-performing women of color in management go from overworked, underpaid, and unappreciated to energized, well paid, and appreciated. Through Nicki Sanders Leadership Consulting, she also helps businesses recruit, hire, train, and retain great employees. Nicki has an extensive background in developing and managing successful programs and leading high-functioning multi-disciplinary teams. She is an accomplished professor, coach, trainer, and group facilitator who has combined her gift for authentic relationships, Master of Social Work degree, and over 20 years of diverse work experience to create a life she loves. Nicki is a lover of cupcakes, travel, and 80's hip hop and R&B music.
© 2021 Copyright Protected. ALL RIGHTS ARE RESERVED.