As a hiring manager, I have interviewed dozens of professionals with master's degrees and professional licenses who struggle to build a successful career. Without a social work license, I have been able to:
Secure senior management positions⠀⠀⠀⠀⠀⠀⠀⠀⠀⠀⠀⠀⠀⠀⠀
Earn a six-figure salary⠀⠀⠀⠀⠀⠀⠀⠀⠀
Remain gainfully employed for 20+ years⠀⠀⠀⠀⠀⠀⠀⠀⠀
Teach undergraduate courses⠀⠀⠀⠀⠀⠀⠀⠀⠀
Supervise interns in social work, sociology, psychology, human relations, and human behavior⠀⠀⠀⠀⠀⠀⠀⠀⠀
Present at conferences⠀⠀⠀⠀⠀⠀⠀⠀⠀
Become an entrepreneur
Do you want to know how you can position yourself for higher earnings and long-term career success?
The Uplevel Your Position Career Development Program is the answer. We will cover 7 proven career development strategies so that you can land the new job, promotion, and salary you desire and deserve.
Uplevel Your Position Career Development Strategies:
Fess Up – Admit what you want
Look Up – Focus on your assets
Saddle Up – Prepare for the job you want
Show Up – Accept your spotlight
Speak Up – Advocate for yourself
Stand Up – Commit to advancing your career
Level Up – Invest in yourself
You are smart, experienced, educated, and have a strong work ethic, but may be experiencing some of these professional challenges?
Struggling to leverage your certification or degree?
Unsure what you want to do next in your career?
Know what you want but are unsure if you can achieve your career goals?
Want to be more visible in the workplace?
Unsure how to improve your online presence?
Hasn't remained in contact with your professional network?
If you identify with any of these statements, the Uplevel Your Position Program is for YOU, and I invite you to join!
TODAY IS THE DAY! Registration for the September 2021 cohort of the Uplevel Your Position Program opens today, August 16, 2021. Don't procrastinate because there are only 10 slots available. Registration closes on September 7, 2021. REGISTER TODAY!
Uplevel Your Position Program launches on September 13, 2021.
If you want to elevate your career confidence and competence, the investment for enrollment in the September 2021 Uplevel Your Position Career Development Program is just $484.80 in honor of my 48th birthday on 4/8 – Yes, I'm celebrating all year!
Uplevel Your Position Program Details:
Video recommendations to customize and implement each strategy
Worksheets to accompany each video and strategy
The convenience of working at own pace
A special community of participants
A decrease in career planning stress and overwhelm
Special bonuses
A private Facebook group
Two Q&A Zoom sessions (days 3 and 7)
End of the course reflection sheet
I'm ready to support you and You Deserve This!! LET'S GO!!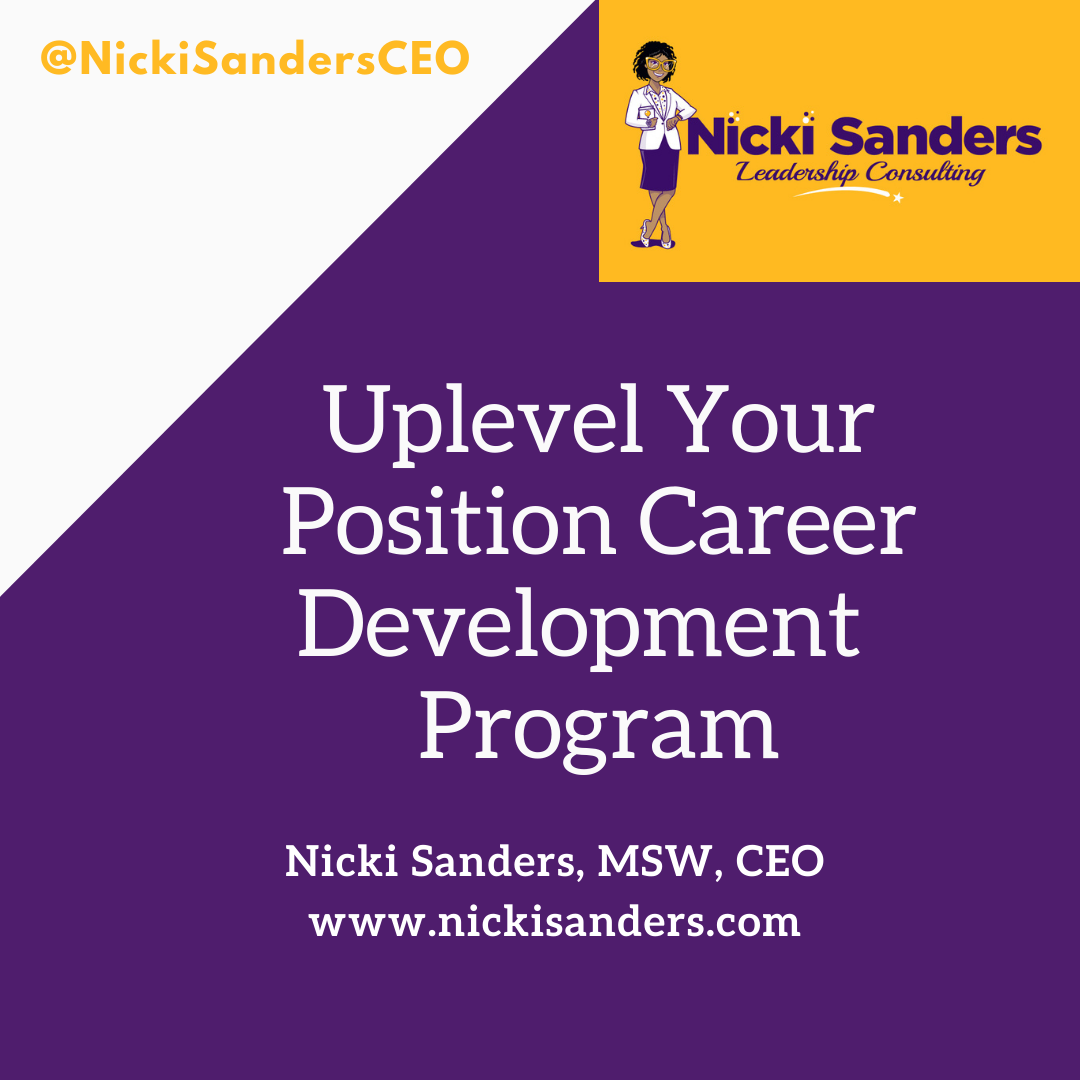 Nicki Sanders, MSW, CEO, is a Career and Empowerment Strategist who helps high-performing women of color in management go from overworked, underpaid, and unappreciated to energized, well paid, and appreciated. Through Nicki Sanders Leadership Consulting, she also helps businesses recruit, hire, train, and retain great employees. Nicki has an extensive background in developing and managing successful programs and leading high-functioning multi-disciplinary teams. She is an accomplished professor, coach, trainer, and group facilitator who has combined her gift for authentic relationships, Master of Social Work degree, and over 20 years of diverse work experience to create a life she loves. Nicki is a lover of cupcakes, travel, and 80's hip hop and R&B music.
© 2021 Copyright Protected. ALL RIGHTS ARE RESERVED.