Tacarra Cook had plans to major in child psychology until she learned about social work. She earned an AA degree in social work after realizing that she wanted to work with youth in a more hands on capacity. Tacarra says that she wanted to be that positive change in the lives of youth – to be that person they could come to. Tacarra earned a Bachelor of Social Work degree from South Carolina State University in 2012. She received a Master of Art degree in Human Services in 2016.  Her plans are to pursue a doctorate in Social Work and become a Social Work professor. Tacarra says that she wanted to and still wants to change the world one youth at a time.
Tacarra say that she was blessed to complete two different internships during her undergraduate education. During her first semester she interned at a women's maximum-security prison facilitating weekly meetings with women who were affected by HIV/AIDS and domestic violence. She also developed a program for young women ages 18-25 whose background included abuse but not intimate partner abuse. Being in the prison three times per week was extremely challenging but Tacarra says that it was the best internship she has had. During her second semester she received a paid internship with the Department of Health and Human Services in Kansas City, Missouri promoting women's health throughout the city. Her work included health fairs and partnership development. What she appreciated most from this experience is that she was able to see social work on a state level versus on a federal level. Although she moved out of state for the internship, Tacarra is grateful to have been able to work with her school and graduate on time.
Finding a social work position after graduation was difficult for Tacarra. She did not find work in her field for three years. Tacarra questioned whether she had selected the right major when she had to return to retail work. She finally landed a part-time job with Boys and Girls Club of the Midlands that allowed her to work with children.  It was in this position that it was reconfirmed for Tacarra that social work is what she wanted to do for the rest of her life. Son after, Tacarra landed a position with South Carolina Department of Social Services as an assessment worker. She held that position for three years and now is a Service Coordinator for Intensive Foster Care and Clinical Services. Tacarra says that she enjoyed knocking on doors and doing assessments although the work is tough and has come with late nights, early mornings, stress, and crying. Tacarra doesn't take it lightly that her face is the first one that a child sees. Knowing that a child is in a safer home at night makes her get up every morning to go to work, she said. Tacarra loves working with youth. She is determined to reinforce for them that just because one door is closed does not mean that another one will not open.
The advice that Tacarra has for social work students and recent graduates is to make sure that this field is in your heart. Social workers are in every part of people's everyday lives, so you are not limited to just working for social service departments or schools, she said. Tacarra continued by saying that this field is the most rewarding headache there is because social work will require longer hours than normal and uneasy conversations. When looking for a job, search all demographics to make sure you are working with the group of people you enjoy and can see yourself working with long-term, she advised.
What Tacarra loves about social work is the possibility of positive change in a person because someone believed in them.  She appreciates that she can witness and be a part of the accomplishments of her clients. The three words that Tacarra uses to describe the field of social work are heartfelt, passion, rewarding.  She says that to be an effective social worker you must have a big heart and love to interact with people who may not have everything together.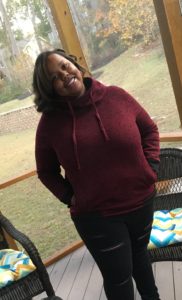 Nicki Sanders, MSW, is a travel and cupcake lover with a passion for self-discovery and career development. She has a strong background in developing and managing interns and successful internship programs. She is an accomplished manager, professor, coach, trainer, and group facilitator who has packaged her Master of Social Work degree and 20 years of diverse work experience into Packaged For Success, a full service training and professional development company.  
© 2018 Copyright Protected. ALL RIGHTS ARE RESERVED.