There are different types of skills required to succeed in the 21st century workplace.

Hard skills are those skills that can be quantified, measured, defined, evaluated, and taught in a classroom. They are the abilities and knowledge needed to perform specific work tasks. Hard skills are often referred to as technical skills. Examples of hard skills include data analysis, coding, forecasting, research, typing, and project management.

Soft skills are the skills that cannot be quantified or easily defined. They are interpersonal or people skills. Examples of soft skills are communication skills, listening, cooperation, empathy, and critical thinking. Soft skills are skills that are essential in every job and every industry.

The ability to effectively communicate and connect with people in the workplace, whether they are clients, customers, colleagues, competitors, partners, supervisors, or vendors is crucial. I explain to my students and clients that "hard skills will get you hired, but lack of soft skills will get you fired". If you can perform the functions of the position well but bring confusion, division, and disrespect into the work environment you will be replaced. It is difficult to accelerate your career or get promoted with poor soft skills. 

The word soft brings up feelings of ease, quiet, small, and weak but that is misleading in this instance. Soft skills are hard to master. Every workplace is a unique environment with different norms and expectations. One reason that soft skills are hard to measure is because different situations require different responses or different levels of response. An employee with strong soft skills is valuable because they are able to adapt accordingly and successfully navigate different career waters.

Soft skills are essential skills.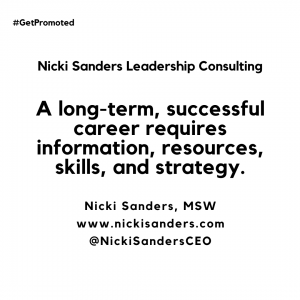 Nicki Sanders, MSW, CEO, is a travel and cupcake lover with an aptitude for authentic connection and career acceleration. She has an extensive background in developing and managing successful programs and leading high-functioning multi-disciplinary teams. She is an accomplished professor, coach, trainer, and group facilitator who has merged her Master of Social Work degree and over 20 years of diverse work experience into a thriving business. Nicki Sanders Leadership Consulting helps businesses recruit and retain the best employees and helps women in mid-level management Get Promoted to the job of their dreams.
© 2020 Copyright Protected. ALL RIGHTS ARE RESERVED.