New Month, New Opportunities! March is a month of growth and transition.

I can feel the spring in the air!

It's said that March comes in like a lion and goes out like a lamb. The days are getting longer. The weather is getting warmer. Beautiful things are beginning to bloom (and kick my seasonal allergies into overdrive LOL). The college basketball fans are excited about March Madness.

I am excited because March is National Social Work Month and Women's History Month. I have pretty cool things in store for March 2020.

What's Happening In My World:
On March 1, 2020, I launched my Career Journey Map session as a great starting point for those who are unsure of their next career step but aren't ready for a long-term coaching program. I'm offering a special (pre) spring sale through the end of March.
I am continuing an outreach project with Coalition for the Advancement of Financial Education (CAFE Montgomery MD) to encourage eligible families to obtain free income tax preparation and claim the Earned Income Tax Credit (EITC). Research shows that claiming the EITC improves infant health and well-being.
I am presenting "Job Satisfaction: From Surviving to Thriving" at the Millennial Social Work Conference in Atlanta, GA on March 6, 2020.
Coffee and Cases: What You Didn't Learn in Social Work School About Building a Successful Career FREE Q&A session on March 9, 2020, from 1:30pm-2:00pm with Nicki Sanders, MSW and Laila El-Asmar, LCSW-C on Facebook Live.
Join me for Cupcakes and Conversations with Nicki Sanders on Facebook Live on Wednesday, March 11, 2020, at 1:00pm. The topic is "If You Stay Ready, You Don't Have to Get Ready". See you on the Nicki Sanders Leadership Consulting Facebook page.
I am joining the Invincible Vision team at The Association for the Promotion of Campus Activities (APCA) event March 13-15, 2020.
Register for my March Monthly Leadership Seminar ,"Bring Your Authentic Self to Work", on March 25, 2020, at 1:00pm. This is a virtual session. You can join from anywhere in the world.
On Sunday, March 29, 2020, I will be networking and celebrating Women's History Month with amazing women at Sherron's BluExperience – BluIcon 2020.
BUT….my calendar isn't full yet. Contact me if you are looking for a speaker, trainer, or coach on women in leadership, building a successful career, avoiding professional burnout, or hiring and retaining high quality staff. Let's Do This!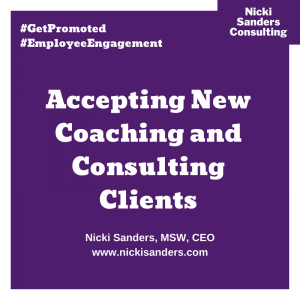 Nicki Sanders, MSW, CEO, is a travel and cupcake lover with an aptitude for authentic connection and career design. She has an extensive background in developing and managing successful programs and leading high-functioning multi-disciplinary teams. She is an accomplished professor, coach, trainer, and group facilitator who has merged her Master of Social Work degree and over 20 years of diverse work experience into a thriving business.  Nicki Sanders Leadership Consulting helps businesses recruit and retain the best employees and helps women in mid-level management Get Promoted to the job of their dreams.  
© 2020 Copyright Protected. ALL RIGHTS ARE RESERVED.