March is the end of the 1st quarter of the new year and new decade!

Are you ready to march forward in March?

Career clarity is a key to career success. It's time to get honest about where you are professionally, where you want to be, and how long it will take you to get there.
Are you working in a high growth industry?
Is it past time for a raise?
Do you need more flexibility in your life?
Do you have the greatest supervisor ever?
Is your current job stressing you out?
Are you considering going back to school?
If you're unsure if you want to stay in your current job a little longer, get promoted in your company, get hired by a new employer in the same field, or change industries completely, then my Career Journey Map is the starting point for you.
The key to getting ahead is getting started! You don't have to do this all alone. Let's get going together!
My Career Journey Map includes my career questionnaire and one 30 minute follow up session to discuss your career options. There will be career clarity at the end of the session!
The regular investment is $97, but I'm offering a special (pre) spring sale of $59 through the end of March. Don't let this opportunity pass you by.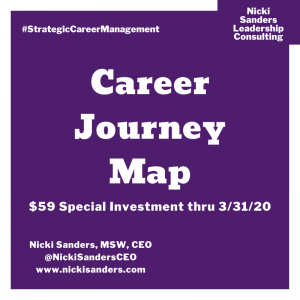 Nicki Sanders, MSW, CEO, is a travel and cupcake lover with an aptitude for authentic connection and career design. She has an extensive background in developing and managing successful programs and leading high-functioning multi-disciplinary teams. She is an accomplished professor, coach, trainer, and group facilitator who has merged her Master of Social Work degree and over 20 years of diverse work experience into a thriving business.  Nicki Sanders Leadership Consulting helps businesses recruit and retain the best employees and helps women in mid-level management Get Promoted to the job of their dreams.  
© 2020 Copyright Protected. ALL RIGHTS ARE RESERVED.