The result of uncertainty is often stagnation. Many of us don't realize that having too many options can be just as stressful as having too few options. Don't stay in the overwhelm.

Get out of your head and get in formation!
Get in the game!
Throw your hat in the ring!
Get to the starting line!
To march is to proceed with regular steps. A march is purposeful action and movement. You've seen the deliberateness, focus, and unison of military soldiers and school marching bands. That same intentionality is what it takes to launch and build a successful career that you love and that is personally and professionally satisfying. If you're ready to march your career forward this March, my Career Journey Map is a great way to invest in yourself and your career.

When you think about where you are currently, do you wonder if you should glow by increasing your visibility in your current company) grow into a promotion, or go share your talents with a new employer?

My Career Journey Map career questionnaire and 30 minute follow up session to discuss your career options will explore each option. You will have career clarity at the end of your session!
The regular investment is $97, but I'm offering a special (pre) spring sale of $59 through March 31, 2020. Don't miss out!
Careers are rarely linear, so if you think you need more support and advice than a Career Journey Map offers, no need to worry. I am here to support you in each stage of your career process. Get in where you fit in.

Career Journey Map
Career Strategy Session
Career Acceleration Portfolio and GAP Analysis
Career Advancement Plan and SWOT Analysis
Career Ascension Plan and BRAND Analysis
Additionally, I offer a monthly leadership seminar and individual and group coaching packages.

Progress is possible when you take strategic action.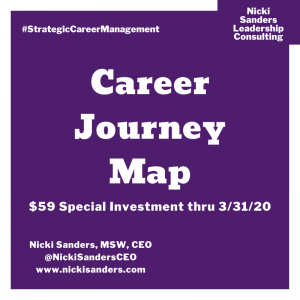 Nicki Sanders, MSW, CEO, is a travel and cupcake lover with an aptitude for authentic connection and career design. She has an extensive background in developing and managing successful programs and leading high-functioning multi-disciplinary teams. She is an accomplished professor, coach, trainer, and group facilitator who has merged her Master of Social Work degree and over 20 years of diverse work experience into a thriving business.  Nicki Sanders Leadership Consulting helps businesses recruit and retain the best employees and helps women in mid-level management Get Promoted to the job of their dreams.  
© 2020 Copyright Protected. ALL RIGHTS ARE RESERVED.