Happy Social Work Month!
Allow me to reintroduce myself!
My name is Nicki Sanders. I love God, my family, travel, old school hip hop, cupcakes, and New Edition. I have a Master's degree in social work from University of Maryland, Baltimore, School of Social Work with a concentration in Management and Community Organization and a specialization in Social Action and Community Development. I am not a clinician. I've never worked in child welfare. I don't have a social work license. I have 20 years of experience in direct practice and administration in social service in residential, community-based, and school-based programs. I also teach undergraduate classes to emerging human services professionals.

March is National Social Work Month. It is an opportunity for social workers across the country to turn the spotlight on the profession and highlight the important contributions they make to society. The official theme for Social Work Month in March 2020 is "Social Workers: Generations Strong."

What is social work?

International Federation of Social Workers – Global Definition of the Social Work Profession
"Social work is a practice-based profession and an academic discipline that promotes social change and development, social cohesion, and the empowerment and liberation of people. Principles of social justice, human rights, collective responsibility and respect for diversities are central to social work. Underpinned by theories of social work, social sciences, humanities and indigenous knowledge, social work engages people and structures to address life challenges and enhance wellbeing. The above definition may be amplified at national and/or regional levels."
Macro, Mezzo, Micro – Social Work Degree Guide
In a practical setting, social work is divided into three different categories which include: macro, mezzo, and micro. The macro level will involve intervening on a large scale which can impact communities and not single individuals. The micro social work level, which is often classified as the most common type of practice, involves working directly with an individual or a family. The mezzo level falls right in between the macro and micro levels, and involves working with smaller groups and institutions.

What questions do you have about a career in social work? Join me today on Facebook to get your career questions answered.

Coffee and Cases: What You Didn't Learn in Social Work School About Building a Successful Career
FREE Live Q&A session
Monday, March 9, 2020
1:30pm-2:00pm
With Nicki Sanders, MSW and Laila El-Asmar, LCSW-C
On Nicki Sanders Leadership Consulting's Facebook page

Set your reminder!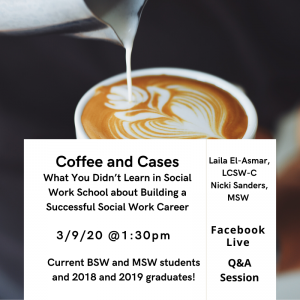 Nicki Sanders, MSW, CEO, is a travel and cupcake lover with an aptitude for authentic connection and career design. She has an extensive background in developing and managing successful programs and leading high-functioning multi-disciplinary teams. She is an accomplished professor, coach, trainer, and group facilitator who has merged her Master of Social Work degree and over 20 years of diverse work experience into a thriving business.  Nicki Sanders Leadership Consulting helps businesses recruit and retain the best employees and helps women in mid-level management Get Promoted to the job of their dreams.  
© 2020 Copyright Protected. ALL RIGHTS ARE RESERVED.