DID YOU MISS IT?

Coffee and Cases: What You Didn't Learn in Social Work School About Building a Successful Career FREE Q&A session with Nicki Sanders, MSW and Laila El-Asmar, LCSW-C on Facebook Live.

We covered myths and misconceptions about the social work profession.
Example: Not all social workers take people's kids away or provide therapy. This field is extremely diverse.

Answered commonly asked questions.
Example: Yes, you can earn a good income in social work even if you are not in private practice.

Offered strategies on preventing and overcoming compassion fatigue and professional burnout.
Example: Engage in a hobby, set up good professional boundaries, use supervision, and do work that you love.

Check out the video replay here!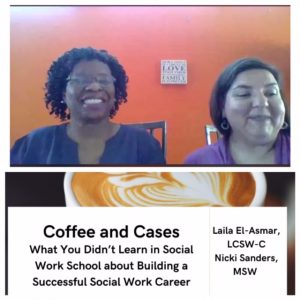 Nicki Sanders, MSW, CEO, is a travel and cupcake lover with an aptitude for authentic connection and career design. She has an extensive background in developing and managing successful programs and leading high-functioning multi-disciplinary teams. She is an accomplished professor, coach, trainer, and group facilitator who has merged her Master of Social Work degree and over 20 years of diverse work experience into a thriving business.  Nicki Sanders Leadership Consulting helps businesses recruit and retain the best employees and helps women in mid-level management Get Promoted to the job of their dreams.  
© 2020 Copyright Protected. ALL RIGHTS ARE RESERVED.