Website Announcement: All work from theteentoolbox.com and packagedforsuccess.com have been transferred to nickisanders.com.  You won't find what articles you want there any longer. My permanent website address is now nickisanders.com.
Google is still catching up but you are now in the know!

Click The Links Below To Check Out These Past Social Work Articles:

REMEMBER: There are additional social work articles on nickisanders.com. The title of any past social work article you are searching for can be found on nickisanders.com.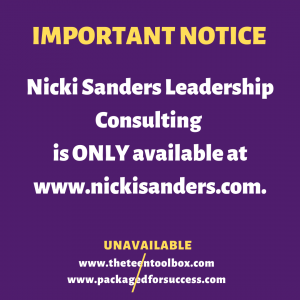 Nicki Sanders, MSW, CEO, is a travel and cupcake lover with an aptitude for authentic connection and career design. She has an extensive background in developing and managing successful programs and leading high-functioning multi-disciplinary teams. She is an accomplished professor, coach, trainer, and group facilitator who has merged her Master of Social Work degree and over 20 years of diverse work experience into a thriving business. Nicki Sanders Leadership Consulting helps businesses recruit and retain the best employees and helps women in mid-level management Get Promoted to the job of their dreams.
© 2020 Copyright Protected. ALL RIGHTS ARE RESERVED.