Long before the global spread of COVID19, emergency preparedness, sustainability, and preventing the spread of germs were important to me. I may credit part of it to my natural (planner) personality and another part may be credited to my macro social work education. It's possible that  the "want to be farm girl" in me also plays a part in the fact that I am more likely to watch Living off the Grid, Doomsday Preppers and Extreme Couponing than The Real Housewives, Say yes to the Dress, and The Bachelor. 
Take These Precautions
Wash Your Hands: Wash your hands often with soap and water for at least 20 seconds, especially after going to the bathroom, before eating, and after blowing your nose, coughing, or sneezing. Avoid touching your eyes, nose, and mouth. If soap and water are not readily available, use an alcohol-based hand sanitiser with at least 60% alcohol.

Cover Your Cough: Cover your cough or sneeze with a tissue, then dispose of the tissue safely.

Isolate: Avoid close contact with people who are sick. Stay home when you are sick.

Research: Do your own research instead of taking in tidbits of information from the media and your friends and family. The Centers for Disease Control and Prevention website is probably the best place to begin your research.

Prepare: This is not the time to panic. Add to or begin assembling your home and work emergency kit. Create an emergency plan for work, business and family.

Self-care is as important as hand washing during this time!

Focus: Focus on expressing gratitude for your blessings and on doing the things that are within your control.

Connect: Practice social distancing but not to the extent that you are continually isolated and alone. If you are experiencing anxiety, fear, or depression, seek the emotional and psychological support needed.

Limit Media: Limit your exposure to hysteria and negative media on television and online.

Unwind: The entire country is slowing down right now. Take time to relax and unwind. Start a new hobby. Spend time outside in nature if possible.

Hope: Remain hopeful. We, as a country, will adapt and thrive.
How are you practicing safety and self-care?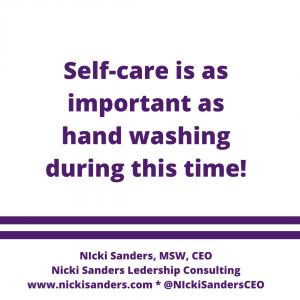 Nicki Sanders, MSW, CEO, is a travel and cupcake lover with an aptitude for authentic connection and career design. She has an extensive background in developing and managing successful programs and leading high-functioning multi-disciplinary teams. She is an accomplished professor, coach, trainer, and group facilitator who has merged her Master of Social Work degree and over 20 years of diverse work experience into a thriving business. Nicki Sanders Leadership Consulting helps businesses recruit and retain the best employees and helps women in mid-level management Get Promoted to the job of their dreams.
© 2020 Copyright Protected. ALL RIGHTS ARE RESERVED.