Titles are official representations of control, duties and responsibilities. Titles give positional authority. Leadership, on the other hand, is representative of power and influence. Leadership is about what you say, what you do, how you engage, and how you support others. Leaders can be found making things happen at every level in a company from entry level to executive. Leadership transcends titles. Take the LEAD to accelerate your career.
Lead Your Colleagues
Productivity and performance in the workplace are based on collaboration and interdependence. Actively contribute to organizational goals with a positive attitude, a helping hand, and a willingness to adapt and be flexible. Establishing yourself as someone your colleagues can count on to show respect, problem solve, and celebrate and empower others sets you apart as a leader. Accelerate your career by being a stellar team player.
Lead Your Supervisor
Lead your supervisor by learning to manage up. Managing up that you do what is possible to make your boss's job easier. Managing up is essentially managing your manager which requires getting to know them, their goals, and their vision. If you plan to stay in your job – regardless of how well your supervisor is performing – it is in your best interest to make your relationship work. No manager wants someone on their team who will double cross them or try to bring them down. The person who is reliable and responsible becomes invaluable. Accelerate your career by supporting your boss' success.
Leadership Don'ts
Don't be manipulative.
Don't kiss up.
Don't abuse your power.
Don't expect quid pro quo.
Take the LEAD. The performance of a true leader is:
L – Logical and Legendary
E – Effective and Efficient
A – Accurate and Accountable
D – Deliberate and Dependable
What do you need to become a better leader?
Now through May 31, 2020, I am offering a Coronavirus Career Acceleration Bundle that includes my Career Journey Map followed by my Career Acceleration Strategy session for $197.00. The combined value of this special offer is $394.00. Don't miss out. This is an amazing savings of $197.00.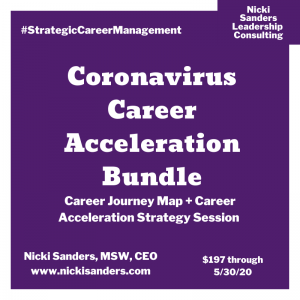 Nicki Sanders, MSW, CEO, is a travel and cupcake lover with an aptitude for authentic connection and career design. She has an extensive background in developing and managing successful programs and leading high-functioning multi-disciplinary teams. She is an accomplished professor, coach, trainer, and group facilitator who has merged her Master of Social Work degree and over 20 years of diverse work experience into a thriving business. Nicki Sanders Leadership Consulting helps businesses recruit and retain the best employees and helps women in mid-level management design the careers of their dreams.
© 2020 Copyright Protected. ALL RIGHTS ARE RESERVED.