Set aside time for a bit of reflection:
What have you been told you "should" do in your career?
What vocational limitations have been placed on you by others?
What limited career advancement thinking have you adopted?
The strategies that I implemented to advance my career may not work for you. What worked for your sister, husband, or neighbor may not work for you. Wondering why?
I share more in my Cupcakes and Conversations with Nicki Sanders May 2020 Quarantine Edition video.
Are you ready to accelerate your career?
I offer customized career support and strategies because our career journeys are as individual as our fingerprints.
Don't Copy
Don't Compare
Don't Cancel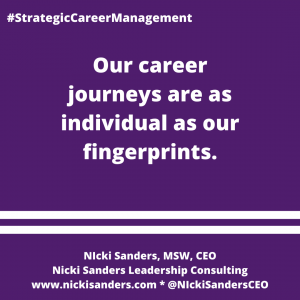 Nicki Sanders, MSW, CEO, is a travel and cupcake lover with an aptitude for authentic connection and career design. She has an extensive background in developing and managing successful programs and leading high-functioning multi-disciplinary teams. She is an accomplished professor, coach, trainer, and group facilitator who has merged her Master of Social Work degree and over 20 years of diverse work experience into a thriving business. Nicki Sanders Leadership Consulting helps businesses recruit and retain the best employees and helps women in mid-level management design the careers of their dreams.
© 2020 Copyright Protected. ALL RIGHTS ARE RESERVED.