A quality internship offers the opportunity to acquire practical experience in an environment with an experienced professional. Interns in this setting are able to develop professional connections and meet their learning objectives.
Don't be a horrible internship manager. Avoid these 10 things if you want to offer a quality internship opportunity.
Don't provide an orientation session at the start of the internship.
Don't provide a description of intern's main duties and responsibilities.
Limit the variety of roles and operations an intern is exposed to within your company
Don't connect internship assignments to classroom learning.
Don't meet with intern regularly to discuss progress.
Only give negative feedback.
Exclude intern from staff meetings and agency activities.
Don't provide adequate work space for intern to complete assigned tasks.
Assign only low-skill or primarily clerical tasks.
Micromanage all projects.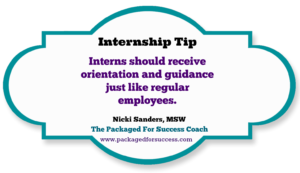 Nicki Sanders, The Packaged For Success Coach, is an Adjunct Professor with an extensive background in developing and managing internship programs. She is a skilled program manager, coach, trainer, and group facilitator who has packaged her Masters of Social Work degree and 20 years of work experience into Packaged For Success, a full service training and professional development company.
© 2016 Copyright Protected. ALL RIGHTS ARE RESERVED.