"I don't like to gamble, but if there's one thing I'm willing to bet on, it's myself." -Beyoncé
I know all too well how to adapt to a toxic work environment.
I've had sleepless nights because I carried the weight of an organization on my shoulders.
I experienced compassion fatigue as a result of taking FULL responsibility for the safety and care of hundreds of program participants.
I've had to be more aggressive in the workplace than I could have ever dreamed as I stood in the gap as the protector for my staff and program participants.
I've put myself at the bottom of my priority list and experienced professional burnout as a result.
I am AMAZING at what I do! I absolutely know my stuff! Even with my credentials, years of diverse professional experiences, a strong professional network, and a long list of staff, colleagues, clients, and students who launched and maintained successful careers based on my guidance and strategies, I stayed in a job where I was giving much more than I was receiving. I had convinced myself that I was essential (Nope, we all can be replaced).
Although I had already launched my side hustle and was teaching part-time at the college level, I had convinced myself that job 'safety and security' were more important than my growth, sanity, and happiness. It's NOT!!

Enough was enough! I decided to bet on myself and resign. I haven't regretted not one moment!

Do any of these things sound like your current situation? If the answer is yes, then it's time to bet on yourself!! I believe in you and I got your back!!
Bet On Yourself:
Get Clear – Take the time to get clear on what you want and what you don't want in your next career move
Say No – Say no to the things that leave you drained, resentful and insecure
Say Yes – Say yes to the things that result in creativity, growth, and professional satisfaction
Encourage Yourself – Sometimes you have to be your own cheerleader and clap for yourself when others don't see your value
Promote Yourself – Inform the right people about your contributions and take credit for the work that you do

If you want to work with someone who has been in your shoes and is now walking a different path, contact me and let's get started.

"Forget the lottery. Bet on yourself instead." – Brian Koslow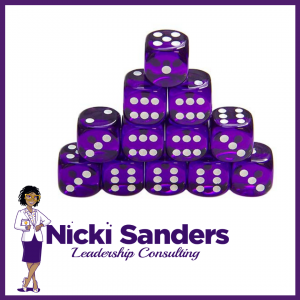 Nicki Sanders, MSW, CEO, is a travel and cupcake lover with an aptitude for authentic connection and career design. She has an extensive background in developing and managing successful programs and leading high-functioning multi-disciplinary teams. She is an accomplished professor, coach, trainer, and group facilitator who has merged her Master of Social Work degree and over 20 years of diverse work experience into a thriving business. Nicki Sanders Leadership Consulting helps businesses recruit and retain the best employees and helps women in mid-level management design the careers of their dreams.
© 2020 Copyright Protected. ALL RIGHTS ARE RESERVED.