You work hard. You meet deadlines. You work well with your coworkers. You train the new employees. You rock the presentations. You bring in new clients.
You do the work, and you deserve the credit!!
Stop downplaying your brilliance so others aren't intimidated.
Stop praising the team for work they didn't contribute.
Stop belittling the accolades and accept the compliments.
Stop giving away your brain power.
Self-promotion is essential to career advancement. Speaking up in meetings, introducing new ideas, advocating for your professional needs, and taking credit for the good work that you do are great ways to attract the visibility and recognition you deserve. Don't let the fear of being called conceited, being viewed as a female dog, or being regarded as pushy or conceited stop your career progress.
Take the credit if you want the promotion.
Take the credit if you want the salary increase.
Take the credit if you want to leave the job you hate.
Take the credit and value yourself if you want to be valued.
Your career is as unique as you are. The Career Activation Strategy Session is the service that helps my clients position themselves for a long-term, successful career. You can experience brainstorming and one on one support in implementing individualized strategies to set and attain your career goals. Lesson number one is take the credit!
Invest in career acceleration today! Sign up for HERE for your Career Activation Strategy Session.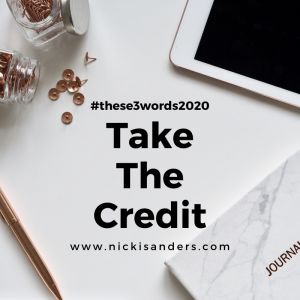 Nicki Sanders, MSW, CEO, is a travel and cupcake lover with an aptitude for authentic connection and career design. She has an extensive background in developing and managing successful programs and leading high-functioning multi-disciplinary teams. She is an accomplished professor, coach, trainer, and group facilitator who has merged her Master of Social Work degree and over 20 years of diverse work experience into a thriving business. Nicki Sanders Leadership Consulting helps businesses recruit and retain the best employees and helps women in mid-level management design the careers of their dreams.
© 2020 Copyright Protected. ALL RIGHTS ARE RESERVED.