"Tact and diplomacy are valuable workplace skills." – Nicki Sanders
Tact – a keen sense of what to do or say in order to maintain good relations with others or avoid offense
Diplomacy – the art of dealing with people in a sensitive and effective way
When did I learn to choose my words carefully?
Respect and politeness were important in my family growing up so there were words children could not use, and name calling was unacceptable. I have always spoken up, even as a child. I learned early on that "it's not what you say, but how you say it" in order to voice my opinion and get my point across.
I am an empath who was always a good listener and advice giver. Family and friends trusted me to keep their secrets and tell them the truth without being mean. I never wanted to hurt people's feelings. In fact, I loathe bullying and shaming people (no surprise I went into social work). Another example of choosing my words carefully early in life.
I am in no way a push over and refused to be silenced. I have always shared my opinions in the classroom and in the workplace with the keen awareness of how my words (no matter how innocent or valid) may be perceived. The sad truth is that in the workplace I have learned to choose my words carefully so that I do not play into the "angry Black woman" stereotype. In the workplace, the stakes are much higher. Dodging the landmines of both conscious and unconscious bias is exhausting. I have accepted this unfair 'burden' as a necessary evil on the path to career success.
The negative portrayal of Black women, who have endured centuries of pain and abuse and choose to stand up for themselves, their families, their race has hit the world's biggest political stage in the 2020 Presidential election as Senator Kamala Harris campaigns to be the first Black women to serve as Vice President of the United States of America.
Unfortunately, the barriers are bigger than "choosing the right words". Black women also encounter racism, gender discrimination, pay inequity, and workplace bureaucracy. Toxic work environments and the glass ceiling have led many Black women to launch their own enterprises where they can show up brilliantly and authentically.
If you want help in navigating office politics, gender and racial stereotypes, and imposter syndrome, let's chat!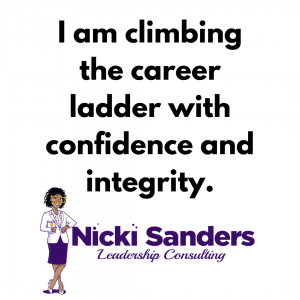 Nicki Sanders, MSW, CEO, is a travel and cupcake lover with an aptitude for authentic connection and career design. She has an extensive background in developing and managing successful programs and leading high-functioning multi-disciplinary teams. She is an accomplished professor, coach, trainer, and group facilitator who has merged her Master of Social Work degree and over 20 years of diverse work experience into a thriving business. Nicki Sanders Leadership Consulting helps businesses recruit and retain the best employees and helps women in mid-level management design the careers of their dreams.
© 2020 Copyright Protected. ALL RIGHTS ARE RESERVED.