October Is Emotional Wellness Month
Check your mood! The leaves are falling. The weather is cooler. The days are shorter. It's autumn. As the seasons change, often our moods do as well.

October is a great time to reflect on your emotional wellness. We're in the 4th quarter of a year that has been filled with tragedy, drama, disappointment, and uncertainty but we can finish strong.

Make sure you're still in the game and playing to win!!
-Tune into your feelings
-Develop healthy ways to avoid or manage stress
-Build downtime into your schedule so you can unwind and relax
-Practice gratitude
-Grant yourself grace when you make mistakes
-Celebrate small wins
-Disconnect from media and social media as needed
-Be aware of your need for outside help – whether from your support system or a trained professional
-Engage in activates that bring you joy

Remember that your job can positively or negatively impact your life and that life is too short to work in a job that is emotionally draining or unhealthy



October Is Emotional Intelligence Awareness Month
Technical (hard) skills will get you hired and lack of interpersonal (soft) skills will get you fired.


Emotional intelligence is the capacity to be aware of, control, and express one's emotions, and to appropriately manage interpersonal connections. Emotional intelligence affects quality of life because it influences behavior and relationships. Emotional intelligence helps improve communication, management, problem-solving, and collaboration in the workplace. Drama, confusion, and negativity generally surround employees who are emotionally immature or oblivious to social cues. Employees who are more emotionally intelligent are better at self-awareness and communicating, empathizing, and working with others. Mastering emotional intelligence is crucial as you climb your career ladder.
Three ways to improve your emotional intelligence:
Pause for a couple of seconds to consider how best to respond when challenges arise instead of reacting from pure emotion.
Notice your behavior in good times and not so good times.
Take responsibility for your feelings, words and actions.
October is also:
Breast Cancer Awareness Month
Domestic Violence Prevention Month
Women's Small Business Month
If you are ready to leave a toxic work environment and pursue work that you love, let's schedule time to chat!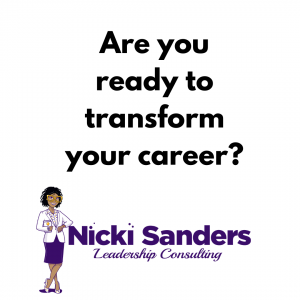 Nicki Sanders, MSW, CEO, is a travel and cupcake lover with an aptitude for authentic connection and career design. She has an extensive background in developing and managing successful programs and leading high-functioning multi-disciplinary teams. She is an accomplished professor, coach, trainer, and group facilitator who has merged her Master of Social Work degree and over 20 years of diverse work experience into a thriving business. Nicki Sanders Leadership Consulting helps businesses recruit and retain the best employees and helps women in mid-level management design the careers of their dreams.
© 2020 Copyright Protected. ALL RIGHTS ARE RESERVED.