I went to my first job interview over 30 years ago. Today I can interview with authenticity and without anxiety. As a hiring manager, I've interviewed hundreds of candidates over the last 13 years. I have encountered candidates who love interviewing and are great at it and those who equate going on a job interview with walking barefoot on glass. Or maybe they just make me feel like I'm walking barefoot on glass LOL. Seriously, I have conducted interviews that were painful for me to be a part of – most if them I ended much earlier than planned, some I let continue because I felt like the person needed to talk through some things (remember my background), and others I have stopped the official interview to give interview pointers to the candidate for their next opportunity.
The goal of a job interview is to make a good impression and get hired.
How do you improve your interview skills?
Minimize Anxiety – Arrive 15 minutes early, dress appropriately for the position, silence or turn off your cell phone, bring a copy of your resume and cover letter, and be nice to everyone you meet before your interview begins.  
2. Research – Do the research to ensure that you are adequately informed about the job you are applying for, the interviewer, and the company you want to work with. 
3. Rehearse – Rehearse answering interview questions and plan the talking points that highlight your strengths and experiences and show the value you will bring to the company.
4. Be Self-Aware – Listen attentively and do not overtalk your interviewer. Remain professional – watch your language and your body language. Do not use profanity or speak negatively about your past employers or coworkers. Use good posture, control your hands, and be mindful of your facial expressions.  
5. Self-Promote – Confidently talk about yourself and the impact you made in past companies. You don't want to exaggerate or come off as conceited but a job interview is not the time to be modest. You want to present yourself as the best person for the job. Share anecdotes that showcase your contributions and solutions that positively impacted your employers and colleagues. 
Bonus:
Practice – I believe that the more interviews you have the more you understand what hiring managers want and the better you become at verbalizing your strengths. I recommend you go on one or two interviews for positions you don't have an attachment to so that you can get practice without exposing yourself to numerous unnecessary rejections.
Do you have meaningful experiences to share in your next job interview?
With a Career Achievement Log Toolkit you will have documented evidence of your achievements and a cheatsheet to easily prepare for a job interview. With a Career Achievement Log Toolkit you receive 3 different plug and play templates that allow you to choose the method that works best for you so that you can get started documenting your successes IMMEDIATELY.
The Career Achievement Log Toolkit consists of three (3) methods to document your accomplishments so that you can choose the method that is best for you. A Printable Template to document by hand along with two electronic options –  a spreadsheet and a fillable PDF. The Career Achievement Log Toolkit also includes a Confidant Interview resource sheet and a Resume/Cover Letter tip sheet to ensure that your documentation is as comprehensive as possible.  
Printable Template – $27
Fillable Spreadsheet – $37
Fillable PDF – $29
Interview Resource Sheet – $19
Resume/Cover Letter Tip Sheet – $17
Total Value: $129 [Yes, you read that correctly!]
Your Investment: $27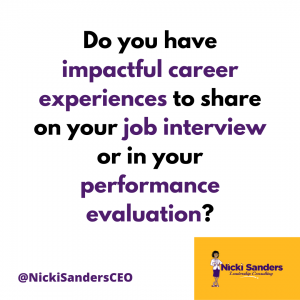 Nicki Sanders, MSW, CEO, is a travel and cupcake lover with an aptitude for authentic connection and career design. She has an extensive background in developing and managing successful programs and leading high-functioning multi-disciplinary teams. She is an accomplished professor, coach, trainer, and group facilitator who has merged her Master of Social Work degree and over 20 years of diverse work experience into a thriving business. Nicki Sanders Leadership Consulting helps businesses recruit and retain the best employees and helps women in mid-level management design the careers of their dreams.
© 2020 Copyright Protected. ALL RIGHTS ARE RESERVED.