Wait – (v.) stay where one is or delay action until a particular time or until something else happens
What are you waiting for in order to move forward in your career?
We are creatures of habit. We crave familiarity, safety, and security. Holding on miserably to safety and security can lead to settling and playing small. I have never met an overnight success, but I also don't believe that you must languish in a dead-end or toxic job to pay some made-up dues and satisfy some unrealistic dread. My specialty is career acceleration. I rebuke the idea that you must wait years and years to level up in your career. Skills and performance are more important than dates in career advancement.
If I had a dollar for every time I've heard some version of "I can't leave this job until". You can't leave the job that you hate, that is no longer meeting your professional needs, and that doesn't value you because you must wait until…your kid is older, your work anniversary, your job title changes, your college graduation, or your colleague returns from maternity leave. I am not discounting real issues or concerns where remaining in your role is a legitimate benefit. I am referring to waiting because of fear and resistance. Waiting and wishing won't serve you well in the long-term or the short-term. Life is passing you by and your career is on the decline during your self-imposed waiting period. Are you ready to leave your comfort zone?
In addition to stalling your career, a toxic workplace can also impact your mental, physical, and emotional health and well-being. You can avoid desperation and hopelessness. Be proactive:
Don't wait until your bank account is empty because you live paycheck to paycheck to ask for a raise.
Don't wait until you're about to be fired to start job hunting.
Don't wait until you have a personal crisis to seek a job that provides good benefits and values work/life balance.
Don't wait until you're so angry and frustrated that you tarnish your professional reputation before submitting your resignation.
Don't wait until you're about to be fired to start job hunting.
Career acceleration is available to you. Are you ready to develop your exit strategy?
You can decrease your waiting period by being strategic and intentional and securing the appropriate career resources, tools, and support. That's what I'm here for.
Don't Wait, Accelerate!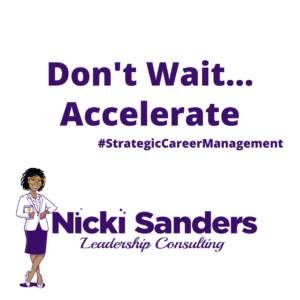 Nicki Sanders, MSW, CEO, is a Career and Empowerment Strategist who helps high-performing women of color in management go from overworked, underpaid, and unappreciated to energized, well paid, and appreciated. Through Nicki Sanders Leadership Consulting, she also helps businesses recruit, hire, train, and retain great employees. Nicki has an extensive background in developing and managing successful programs and leading high-functioning multi-disciplinary teams. She is an accomplished professor, coach, trainer, and group facilitator who has combined her gift for authentic relationships, Master of Social Work degree, and over 20 years of diverse work experience to create a life she loves. Nicki is a lover of cupcakes, travel, and 80's hip hop and R&B music.
© 2021 Copyright Protected. ALL RIGHTS ARE RESERVED.