We all desire attention and praise. Recognition and connection are important to our self-image and performance. Accepting compliments is often tied to our self-perception or self-worth.
When you were a little girl, were you told to be humble? Be polite? Not to brag? No one wants to spend time with people who are selfish or conceited, right?
Are you embarrassed by the spotlight or when you receive praise? As women, we often deflect, deny, or downplay compliments. We may reject them with a slight insult, minimize them instead of accepting and owning them, or change the subject altogether. This behavior weakens the compliment or may even insult the giver. When you devalue a compliment, you may inadvertently send the message that you aren't worthy, lack self-confidence, or don't respect the opinion of the person who complimented you. Whether at home or at work – time is up.
Five Ways NOT to Accept Compliments:
Oh, this old thing.
It was nothing.
I'm not as good as Nancy.
Well of course. What else would you expect?
You're much better at this than I am.
Be gracious and sincere. STOP deflecting, internalize the compliment, acknowledge the giver, then say thank you!
What is the compliment you receive most?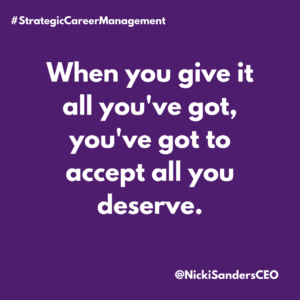 Nicki Sanders, MSW, CEO, is a Career and Empowerment Strategist who helps high-performing women of color in management go from overworked, underpaid, and unappreciated to energized, well paid, and appreciated. Through Nicki Sanders Leadership Consulting, she also helps businesses recruit, hire, train, and retain great employees. Nicki has an extensive background in developing and managing successful programs and leading high-functioning multi-disciplinary teams. She is an accomplished professor, coach, trainer, and group facilitator who has combined her gift for authentic relationships, Master of Social Work degree, and over 20 years of diverse work experience to create a life she loves. Nicki is a lover of cupcakes, travel, and 80's hip hop and R&B music.
© 2021 Copyright Protected. ALL RIGHTS ARE RESERVED.