There are women of color in the workforce who are ambitious, motivated, and ready to level up. They have goals they want to reach and are committed to making a positive difference in this world. They are amazing at what they do. They are reliable problem-solvers – the "go to" women on their teams. They make things happen and get things done. These are my folks. The women I am here to support and encourage.
My clients are ready to go to their next level. They don't need to be convinced of their value or brilliance. They don't need hand holding. They need new strategies, but they have the confidence to implement them. My clients are talented, educated, high-performing women in human services leadership who require a good pep talk every now and again when doubt creeps in. They may need a reminder that they've excelled/succeeded before and that they can do it again, but we aren't starting from scratch.
Do you need a pep talk? An accountability partner?
Social Work, Public Health, Education, Counseling, Criminal Justice…I am providing help and support for the heart-centered helpers and supporters. You don't have to navigate this career journey alone.
Let's get clear!
Let's get focused!
Let's get moving!
I'm accepting new private coaching clients now. You can also register for a Career Activation Strategy Session for targeted assistance related to one specific career challenge.
You have the credentials and experience necessary to level up in your career. Grab the steering wheel and let's get on the road to combining your unique gifts and experiences with your education and training to make a significant impact. Ladies, it's time to exit toxic workplaces, low paying jobs, and environments where you are tolerated and not valued for your many contributions. You deserve more! (By the way, this is your first pep talk!)
Contact me and let's get going!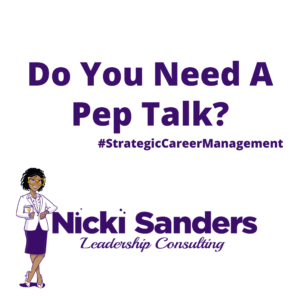 Nicki Sanders, MSW, CEO, is a Career and Empowerment Strategist who helps high-performing women of color in management go from overworked, underpaid, and unappreciated to energized, well paid, and appreciated. Through Nicki Sanders Leadership Consulting, she also helps businesses recruit, hire, train, and retain great employees. Nicki has an extensive background in developing and managing successful programs and leading high-functioning multi-disciplinary teams. She is an accomplished professor, coach, trainer, and group facilitator who has combined her gift for authentic relationships, Master of Social Work degree, and over 20 years of diverse work experience to create a life she loves. Nicki is a lover of cupcakes, travel, and 80's hip hop and R&B music.
© 2021 Copyright Protected. ALL RIGHTS ARE RESERVED.