"Success is not a singular act."
Wednesday, May 12, 2021 – the 2nd Wednesday in May. The 2nd Wednesday of the month at 1:00pm is time for Cupcakes and Conversations with Nicki Sanders. That has been the date and time for over a year. This month it didn't happen. I forgot about it. Not only did Cupcakes and Conversations not happen last Wednesday, but I didn't even realize it until a week later.
Did you forget about the session too?
How could I forget? What was I doing on the 2nd Wednesday in May? I was in overwhelm about joining the Ultimate Blog Challenge. So overwhelmed with the thought of increasing my blog writing from 3 times per week to once each day for the entire month of May that I wrote this blog article, "Completion: A Reminder to Myself", about it.
I can't blame my oversight only on joining the Ultimate Blog Challenge, however. There were other happenings that impacted my regular schedule and routine. If I had taken the time to turn my monthly productivity list into my weekly productivity list, I would not have forgotten. Note to Self: Time to reflect and reprioritize,
Check It Out: Cupcakes and Conversations with Nicki Sanders, May 2021
Related: Cupcakes and Conversations with Nicki Sanders, April 2021
"Never confuse motion with progress."
Oh, and since the workd is reopening, I am once again accepting cupcake and bakery recommendations as well as topic nominations for our discussions!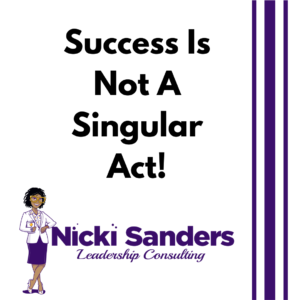 Nicki Sanders, MSW, CEO, is a Career and Empowerment Strategist who helps high-performing women of color in management go from overworked, underpaid, and unappreciated to energized, well paid, and appreciated. Through Nicki Sanders Leadership Consulting, she also helps businesses recruit, hire, train, and retain great employees. Nicki has an extensive background in developing and managing successful programs and leading high-functioning multi-disciplinary teams. She is an accomplished professor, coach, trainer, and group facilitator who has combined her gift for authentic relationships, Master of Social Work degree, and over 20 years of diverse work experience to create a life she loves. Nicki is a lover of cupcakes, travel, and 80's hip hop and R&B music.
© 2021 Copyright Protected. ALL RIGHTS ARE RESERVED.