Some people use the terms internship and practicum interchangeably, but they are different training experiences.  Similarly, there are distinct differences between an apprenticeship and an internship although both combine hands on training and academic instruction. Service learning and volunteering also differ from an internship.
Do you know the difference?
Let me explain is the difference here:
Internship – An internship is the position of a student or trainee who works in an organization, sometimes without pay, in order to gain work experience or satisfy requirements for a degree or certification. An internship gives a novice the opportunity for career exploration and development, and to learn new skills. This professional learning opportunity can happen at any time of year. An intern works at a company under supervision for a fixed period of time without the promise of future employment.
Externship – An externship is the placement of students in a professional setting for a short period of time to gain insight into their chosen career field.  Externships are generally considered job shadowing. Typically, externships are unpaid opportunities and the student usually doesn't receive school credit for their experience.
Apprenticeship – An apprenticeship is a program that trains a worker to become skilled in a particular trade. Apprenticeships combine hands-on work with classroom learning to train the apprentice. Apprentices are trained by master craftsmen, who are experts in their field. They share their skills and knowledge to help the apprentice become an expert too. Apprenticeships are considered full-time employment. Apprenticeship programs can last for years. Most apprentices are paid and earn salary increases similar to employed workers, as they advance and completes various parts of the program.
Service Learning – Service-learning is an approach to teaching and learning in which students use academic knowledge and skills to address genuine community needs. It combines learning goals and community service in ways that can enhance both student growth and the common good. Meaningful community service is integrated into instruction and reflection to enrich the learning experience, teach civic responsibility, and strengthen communities.
Volunteering – Volunteering allows a person to perform a service willingly and without pay. A volunteer opportunity may or may not be connected to a chosen career field, academic institution, or training program. Volunteer opportunities are varied and plentiful and anyone can do it. The goal is volunteering is often to promote goodness or to improve human quality of life.
Practicum – Practicums are short-term field experiences that allow a student to observe and document how working professionals perform their job responsibilities.  A practicum is a supervised on-site work opportunity where students to shadow a professional and demonstrate their developing skills and competencies in their chosen career.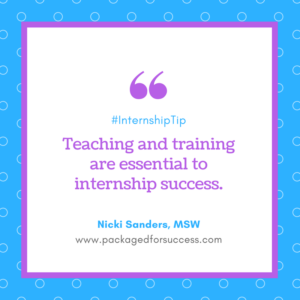 Nicki Sanders, The Packaged For Success Coach, is an Adjunct Professor with an extensive background in developing and managing internship programs. She is a skilled program manager, coach, trainer, and group facilitator who has packaged her Masters of Social Work degree and 20 years of work experience into Packaged For Success, a full service training and professional development company.
© 2016 Copyright Protected. ALL RIGHTS ARE RESERVED.