Specificity is an essential key to success. When you have a clearly defined goal, it is much easier to target, track, and actualize. Where do you REALLY want to work? How do you want to earn a living and make a contribution?
Have you taken the time to decide for yourself what the job of your dreams entails?
Take a few moments to decide now by answering these questions:
What is your job title?
What company do you want to work for?
What city, state, and country is your dream job located?
Where is your job site? (office, warehouse, factory, community center, etc.)
What industry are you working in?
What is the salary that you want to be paid?
What is the daily schedule that works best for you?
Are you working full-time or part-time?
Are you in a leadership role?
What type of work environment or company culture do you want to work in?
Are you mostly working independently or working regularly with a team?
What are 5 adjectives that describe your dream job?
Let's turn your answers into the perfect job description.
Determine the job title.
Write an overview of the position including purpose of the role.
Focus on essential duties and responsibilities.
Outline knowledge, skills, and abilities.
Highlight benefits, perks and workplace bonuses.
Determine opportunities for growth.
Outline working conditions and culture.
Why should I write my perfect job description?
In the Huffington Post article "The Power of Writing Down Your Goals and Dreams", Dr. Gail Matthews states that, " Just the act of writing down your dreams and goals ignites an entirely new dimension of consciousness, ideas and productivity to the powerhouse that is your subconscious mind. This simple act also opens your subconscious to "seeing" opportunities that simply can't be observed if you're tied up with THINKING about your goals."
Take control of your mindset and your career!
Claim it! Believe that this perfect job exists and was created especially for you! Once your dream job (goal) has been written, read it everyday to remind yourself of your purpose, direction, and commitment. The more you visit and visualize your job, the more real it will become. Referencing your dream job daily focuses your energy, leads to better decision making and sets you on a path to get what you really want out of your career.
If you are ready to create the career of your dreams, let's set up a time to discuss which career services I provide that nest fit where you are in your career journey.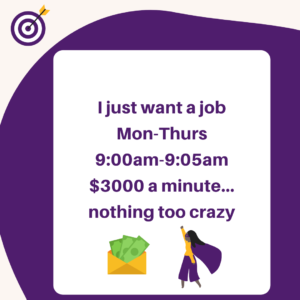 Nicki Sanders, MSW, CEO, is a Career and Empowerment Strategist who helps high-performing women of color in management go from overworked, underpaid, and unappreciated to energized, well paid, and appreciated. Through Nicki Sanders Leadership Consulting, she also helps businesses recruit, hire, train, and retain great employees. Nicki has an extensive background in developing and managing successful programs and leading high-functioning multi-disciplinary teams. She is an accomplished professor, coach, trainer, and group facilitator who has combined her gift for authentic relationships, Master of Social Work degree, and over 20 years of diverse work experience to create a life she loves. Nicki is a lover of cupcakes, travel, and 80's hip hop and R&B music.
© 2021 Copyright Protected. ALL RIGHTS ARE RESERVED.