Anjelious Farmer defines leadership as having the desire and passion to get the sum of parts working together in unity. Anjelious, along with the women in her family, have always been detail-oriented, organized and planners with a mindset to execute and get things done efficiently and effectively. In college, she joined several organizations where she worked as part of a larger team. She used her natural skills to train and support the end goal. It was during her undergraduate years that she became more aware of the value of her skills. She realized that her skills, desire and tenacity to get people together was actually a gift.
Anjelious has built a very successful career. One reason that Anjelious elected to combine business with Information Technology (IT) is because she knew she would be well-paid. She has more than 25 years of consulting experience spending 18 years with IBM and now working as an Engagement Manager with Amazon Web Services. She has vast project management and IT experience. She holds various certifications which allow her to deliver quality service. She left the comfort, connections, and strong reputation that she had established at IBM because she didn't see a clear path to progression and upward movement. What Anjelious has learned throughout her career is that an awareness of the things you don't like is just as important as knowing what you do like, the importance of continuous growth and development, and that exceeding customer needs should always be a goal. She advises not to let fear keep you stuck.
Although she believes that communication, listening, and comprehension are essential leadership traits, Anjelious is also very comfortable being in control and making executive decisions. What she believes makes women naturally good leaders is that women are good communicators. She believes that women are generally detail-oriented and analytical which allows them to stay a step ahead in their thinking.
When she first stepped into leadership, she focused on meeting goals. As she developed professionally, she has learned to invest more in people. Anjelious is now intentional about motivating her team and setting them up for success. She believes that respect and trust are essential to strong teams. When your team knows that you are all in, that you will be there with them and contribute, they will work hard and give their best. Anjelious says that in project management, it is easy to become a task master but she ensures that her staff can relate to her by letting them know that she has also made mistakes.
What Anjelious wishes she had known before becoming a leader is that she is worthy and definitely enough. She says that corporate America is tough and you must put your authentic self aside in order to thrive. She was still finding herself when she entered the corporate workforce and had not connected her passion with her livelihood. Although colleagues immediately size you up to determine whether you are a threat to their success, oftentimes she became her own competition. She doesn't believe that her struggle is unique. In fact, she believes that because we are not taught to be authentic in the workplace, no one is willing to be the first to admit they feel insecure. Anjelious now knows that she is enough today and will be enough tomorrow. She has learned to relax and not be so hard on herself. Anjelious understands fully that her goal-oriented personality has contributed to her success, she understands that balance is essential, that she does not always have to be in a race, and to give herself compassion.
What Anjelious likes most about being a leader is that she is in control and can ensure that everything works out. Anjelious describes herself as being 'customer obsessed' and loves to see the smiles on her customers faces once a project is completed because she knows that she has done a good job. What Anjelious learned from a bad leader is exactly what not to do. She knows that you have to have skin in the game in order to gain the respect of your staff and get the to work with you. Anjelious says that she has never had the privilege of not working hard and that leaders should be full contributors. She believes that the leader must bring value in order to motivate their people.
Anjelious believes that to make any effort successful is considering what could go wrong and developing strategies to guard against it. What she has learned since becoming a manager is that you don't have to know everything. She warned that fear of not being seen as knowledgeable or in control actually keeps you from learning and exploring. Taking a moment to reflect, Anjelious believes that 15 years ago she did not handle change very well. Although society teaches us to strive for perfection, she is now more willing to take more chances and calculated risks. She also believes that if asked a decade ago what advice she has for women in leadership that she would have given a different reply. Corporate America is dominated by White males and women, especially women of color, are expected to project the stereotypical professional image, not be emotional, and conform. The advice she has for women today is to not be afraid to be a woman because we bring a different perspective that makes business better. She wants women to be their authentic selves because there is freedom in being creative and in being yourself and because being two different people is exhausting.
Whether age, wisdom, or a combination of both, Anjelious is more comfortable in her own skin. Instead of trying to fold yourself into 'their world', Anjelious encourages women to know their value, build a solid reputation, and nurture their gifts so that they can show up as themselves. "Whether people accept you or not, they need to get used to the real you", she says. Don't be afraid of what you don't know or fall into the trap of believing that you must know everything as a leader because it is an impossible fear, she continued.
Anjelious became an Alpha Kappa Alpha Sorority, Inc. member during her freshman year in college at George Washington University. She says that some of her most impactful leadership experiences have been in her sorority work. She said her chapter was run like a business. She learned a lot about business and herself, was encouraged to use what you have to make a difference, strengthened her passion for giving back and decided what type of woman she wanted to be. As a young person, Anjelious wanted to have a school where she could take kids out of their regular environment and expose them to new opportunities and experiences.
Anjelious has always been exceptional in her work but was not feeling fulfilled. She nurtured her passion for youth and community through service in her church and in her sorority. Anjelious is a life member of Alpha Kappa Alpha Sorority, Inc., with over 25 years of service at the local, regional, and international levels. In 2018, Anjelious founded Raised to Reach Back, Inc. (R2RB), a 501(c)(3) nonprofit, charitable organization serving the Washington, DC metropolitan area. The organization was established as a direct response to a commitment to supporting, developing, and improving the life chances of young people. She has been able to involve many amazing people which has contributed to the rapid growth of the organization. Anjelious is grateful that she was born into a strong family and for the many mentors who poured into her. She wants to pay it forward by helping youth build confidence. R2RB partners with a District of Columbia Public Schools middle school to deliver monthly leadership and life skills training. R2RB has also developed a partnership with the DC Coalition for the Homeless.
Anjelious is a servant leader who enjoys giving back and spending time with her family and friends. Although self-care is more difficult during a global pandemic, Anjelious's normal self-care plan includes travel, exercise, walking outside, and monthly massage that is a "no excuses" commitment. She encourages women to know what makes them happy and take time to write down 3 things that bring joy and inner peace.
Anjelious is not a big cupcake eater but her favorite dessert is German chocolate cake from Nothing Bundt Cake.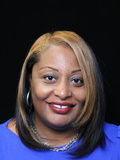 Nicki Sanders, MSW, CEO, is a Career and Empowerment Strategist who helps high-performing women of color in management go from overworked, underpaid, and unappreciated to energized, well paid, and appreciated. Through Nicki Sanders Leadership Consulting, she also helps businesses recruit, hire, train, and retain great employees. Nicki has an extensive background in developing and managing successful programs and leading high-functioning multi-disciplinary teams. She is an accomplished professor, coach, trainer, and group facilitator who has combined her gift for authentic relationships, Master of Social Work degree, and over 20 years of diverse work experience to create a life she loves. Nicki is a lover of cupcakes, travel, and 80's hip hop and R&B music.
© 2021 Copyright Protected. ALL RIGHTS ARE RESERVED.