A small convenience store in Allegany County in Maryland sold a winning $731.1 million Powerball ticket last week — the fourth-largest for Powerball and the sixth-largest U.S. lottery jackpot.
Would you quit your job if you won $731,000,000 in the lottery?
Would you submit a letter of resignation?
If I won $731,000,000 I would absolutely leave any and all employment. There is no job that I have ever held that I would not resign from if I won that much money. I would never even consider having another employer ever again in life.
I am not a lottery player so this is all hypothetical, but I believe that I would submit a letter of resignation and get everything in order including a transition plan. I would even be available to train my replacement. Do you know why? Because I am a super, dedicated, amazing employee? Nope! Although I don't see myself walking out on any job without warning, my reason here is completely self-serving. It is because I would not immediately claim my lottery win as to not alert anyone of my windfall. I would sign my lottery ticket, put it in a safe place with security, get all my own financial documents in order, and plan my permanent great escape.
If I were in the middle of the semester I would stay and teach my students until the end of the semester. If I was still in my previous job, I would likely stay until the end of the school year. If I was in the lead on an important project with a relatively short completion date, I would stay to complete the project. Otherwise, I would probably submit a 2-week resignation about 90 days after my win.
If you would just roll out with no resignation (not even a same day email or phone call), you might want to dissect the reasons. Is it because you hate your job? Because you can't stand your supervisor or colleagues? Because you aren't working on any important projects? Because you don't believe that your employer would give you a similar courtesy? Because you work in a toxic environment? If any of these things ring true, it's probably time to begin your job search whether you win the lottery or not. What are you waiting for?
If you're ready to be energized, well-paid, and appreciated for the value you bring to the workplace, let's get started with a Career Activation Strategy Session.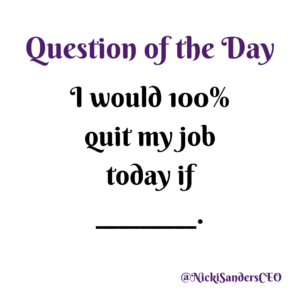 Nicki Sanders, MSW, CEO, is a Career and Empowerment Strategist who helps high-performing women of color in management go from overworked, underpaid, and unappreciated to energized, well paid, and appreciated. Through Nicki Sanders Leadership Consulting, she also helps businesses recruit, hire, train, and retain great employees. Nicki has an extensive background in developing and managing successful programs and leading high-functioning multi-disciplinary teams. She is an accomplished professor, coach, trainer, and group facilitator who has combined her gift for authentic relationships, Master of Social Work degree, and over 20 years of diverse work experience to create a life she loves. Nicki is a lover of cupcakes, travel, and 80's hip hop and R&B music.
© 2021 Copyright Protected. ALL RIGHTS ARE RESERVED.