Creating an atmosphere for growth and professional development takes dedication and time.  Be aware that your intern likely will not possess all the hard skills or soft skills needed to complete assigned tasks to your satisfaction at the start of their internship.
Your intern may possess a few of the hard skills – teachable abilities or skill sets that are easy to quantify or measure – such as typing a certain number of words per minutes, or proficiency in a foreign language, or they may be a whiz at Microsoft Excel. Interns are with you to learn so remember your patience if you have to teach things like how to prepare a professional business email or how to properly utilize your phone system or how to do a mail merge for distribution of your annual appeal letter.
Where many people struggle most is with developing soft skills. Soft skills are those subjective skills that are hard to teach and quantify. Soft skills are also known as "people skills" or "interpersonal skills". Soft skills relate to the way people interact and relate to one another.  Your intern may exude honesty, patience, and empathy but lack the ability to prioritize tasks, communicate their dissatisfaction, or resolve customer complaints with compassion.
Strive to offer your intern an opportunity to develop transferable skills.  Transferable skills span multiple knowledge areas – they are valuable in many industries.  The most valuable intern will be able to take initiative, prioritize tasks, manage their time to meet deadlines, and resolve conflict.  They will exhibit transferable skills such as dependability, self-assurance, and organization.
The time and attention that you give to your intern could result in the hiring of an awesome employee who understands and values your company.  A win-win, mutually beneficial outcome!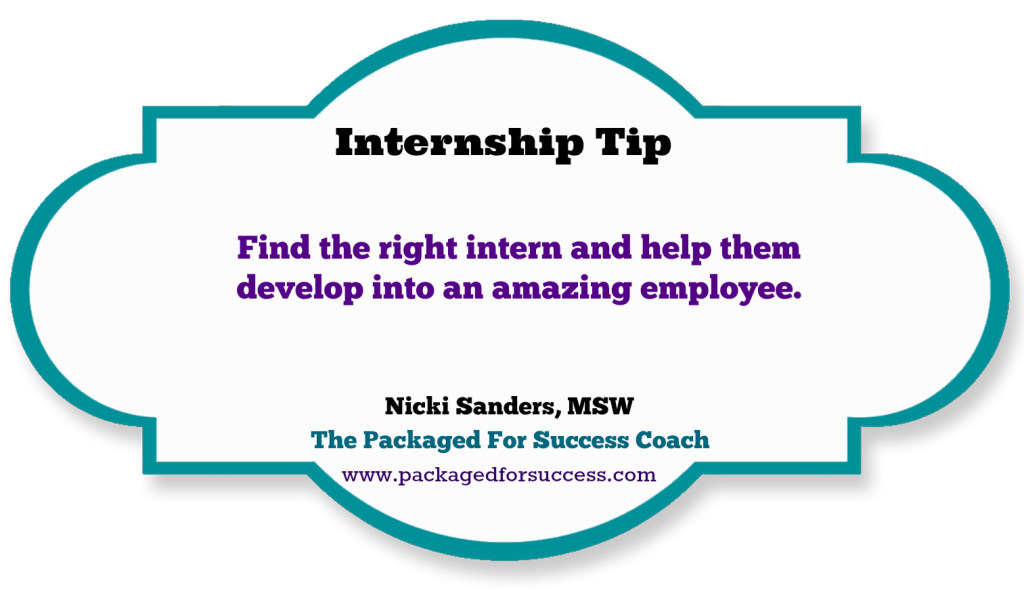 Nicki Sanders, The Packaged For Success Coach, is an Adjunct Professor with an extensive background in developing and managing internship programs. She is a skilled program manager, coach, trainer, and group facilitator who has packaged her Masters of Social Work degree and 20 years of work experience into Packaged For Success, a full service training and professional development company.
© 2016 Copyright Protected. ALL RIGHTS ARE RESERVED.