What is so special about Wednesdays?
WEEKLY – New Articles
New articles are posted on this website every Monday, Wednesday, and Friday but Wednesday are the days that I get to connect with you just a bit more.

WEEKLY – Nicki's Notes
Nicki's Notes is delivered to your inbox weekly on Wednesdays. Nicki's Notes allows me to share strategies, events, announcements, projects, and wins with my community. Contact me to subscribe to my email list.

SECOND WEDNESDAY – Cupcakes and Conversations with Nicki Sanders
Cupcakes and Conversations with Nicki Sanders is a FREE monthly virtual networking session for professional women. Each 2nd Wednesday of the month I facilitate a virtual chat live on my Nicki Sanders Consulting Facebook page and about leadership, sisterhood, and careers. Don't forget to bring your favorite cupcake.
FOURTH WEDNESDAY – Bold Authenticity Monthly Leadership Seminars

Bold Authenticity is professional development that highlights the innate leadership traits women possess and combines them with traditional leadership strategies to help women become more bold, authentic, effective, and influential leaders. Join me each 4th Wednesday of the month to equip yourself with the tools to identify your personal leadership style, establish yourself as a leader, set realistic career and team goals, challenge weak female stereotypes, navigate office politics, delegate with intention, and strengthen your problem-solving, decision-making, and conflict-resolution skills. Your registration and participation in these monthly seminars will also help you nurture and leverage your professional network. There is a fee for this training.
JOIN ME! Let's WIN together on Wednesdays!!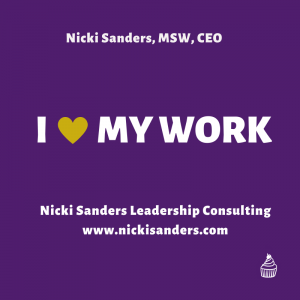 Nicki Sanders, MSW, is a travel and cupcake lover with a passion for self-discovery and career advancement. She has an extensive background in developing and managing multi-disciplinary teams and successful internship programs. She is an accomplished supervisor, professor, coach, trainer, and group facilitator who has merged her Master of Social Work degree and 20 years of diverse work experience into a thriving business. Nicki Sanders Consulting helps businesses increase employee recruitment and retention and helps women in mid-level management develop the confidence, competence, and credibility to lead with bold authenticity.
© 2019 Copyright Protected. ALL RIGHTS ARE RESERVED.