Your words have power. Choose them wisely. The words you speak can inspire, uplift, and encourage yourself and others. Since 2014, I have been offering monthly motivation on social media with just three powerful words.
"Let your words elevate your life to the heights of greatness."- Awaken The Greatness Within

Here are my 2019 words:
January – Eliminate The Excuses
February – Visit Your Vision
March – Prioritize Your Self-Care
April – Enjoy Your Journey
"The whole secret of a successful life is to find out what is one's destiny to do, and then do it." –Henry Ford
May – Craft Your Career
June – Chase Your Dreams
July – Maintain Your Focus
August – Keep the Faith
Too many of us are not living our dreams because we are living our fears. " –Les Brown
September – Lead With Authenticity
October – It's Harvest Time
November – Find Your Tribe
December – Commit To Success
"If you want to achieve greatness stop asking for permission." –Anonymous
#these3words2019
Related Posts: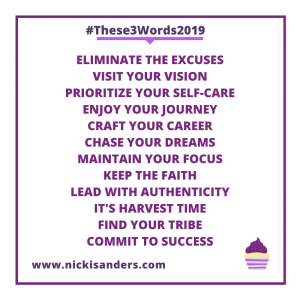 Nicki Sanders, MSW, is a travel and cupcake lover with a passion for self-discovery and career advancement. She has an extensive background in developing and managing multi-disciplinary teams and successful internship programs. She is an accomplished supervisor, professor, coach, trainer, and group facilitator who has merged her Master of Social Work degree and 20 years of diverse work experience into a thriving business. Nicki Sanders Consulting helps businesses increase employee recruitment and retention and helps women in mid-level management develop the confidence, competence, and credibility to lead with bold authenticity.
© 2019 Copyright Protected. ALL RIGHTS ARE RESERVED.