These 3 Words Motivation 2017
If we're connected on social media (Facebook, Twitter, Instagram, or Pinterest) then you know that since 2014 I've shared monthly motivation through my "These 3 Words" social media messages.  Below is a recap of These 3 Words for 2017.
January – Show Yourself Love
February – Implement Your Plan
March – Strengthen Your Strengths
April – Goodbye Comfort Zone
May – Connect The Dots
June – Pay It Forward
July – Lead By Example
August – Broaden Your Horizons
September – Stop Limiting Yourself
October – Life Won't Wait
November Elevate Your Mind
December – Onward and Upward
Related Posts: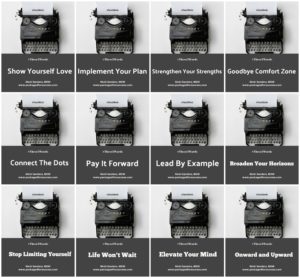 What is your favorite quote or motivational phrase?

Nicki Sanders, The Packaged For Success Coach, is an Adjunct Professor with a passion for business and career development. She has an extensive background in developing and managing interns and successful internship programs. She is a skilled manager, coach, trainer, and group facilitator who has packaged her Master of Social Work degree and 20 years of work experience into Packaged For Success, a full service training and professional development company.
© 2017 Copyright Protected. ALL RIGHTS ARE RESERVED.