Black History Month is an annual celebration of achievements by African Americans and a time for recognizing the central role of blacks in U.S. history. Also known as African American History Month, the event grew out of "Negro History Week," the brainchild of noted historian Carter G. Woodson and other prominent African Americans. Since 1976, every U.S. president has officially designated the month of February as Black History Month. Other countries around the world, including Canada and the United Kingdom, also devote a month to celebrating black history.
Since 1976, every American president has designated February as Black History Month and endorsed a specific theme. The Black History Month 2020 theme, "African Americans and the Vote," is in honor of the centennial anniversary of the Nineteenth Amendment (1920) granting women's suffrage and the sesquicentennial of the Fifteenth Amendment (1870) giving black men the right to vote.
Shirley Chisolm, Martin Luther King, Jr., Mary McCleod Bethune, Thurgood Marshall, Rosa Parks, Jesse Jackson, Maxine Waters, Malcolm X, Madam CJ Walker, Benjamin Banneker…
Although Barack Obama served two terms as president of the United States, we still need Black History Month.
Although Michelle Obama was voted the most influential women in the United States and won Grammy award for Best Spoken Word Artist for the audio version of her memoir 'Becoming', we still need Black History Month.
Although Colin Powell and Condoleezza Rice served as US Secretary of State, we still need Black History Month.
Although Oprah Winfrey and Michael Jordan are billionaires, we still need Black History Month.
Although Tyler Perry owns his one film studio, we still need Black History Month.
Although the NBA and NFL are primarily dominated by African Americans, we still need Black History Month.
Although Chairman and CEO of Vista Equity Partners, Robert F. Smith, donated 34,000,000 to the Morehouse College Student Success Program to pay off the loans of the 2019 graduating class, we will need Black History Month.
Although Simone Biles is the most decorated gymnast in the world, we still need Black History Month.
Although Hidden Figures, Black Panther, and Get Out were blockbuster hits, we still need Black History Month.
Five reasons we still need Black History Month
Black History is still predominantly taught in February, in special classes, and in HBCUs – not as a regular component of American history in public education.
Structural racism, inherent bias, and discrimination are still very present in medical facilities, schools and workplaces.
Lies and stereotypes about our history, character and abilities are pervasive in mass media.
Mass incarceration, unemployment, health disparities, violent deaths and are not on a steady decline in our communities.
Representation matters but centuries of contributions by Black people are still largely unknown.
Yes, we still need to celebrate Black History Month in February AND the other eleven months! Please join me!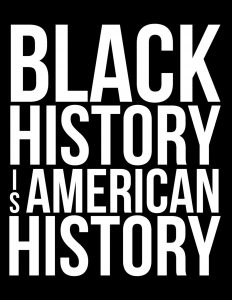 Nicki Sanders, MSW, CEO, is a travel and cupcake lover with an aptitude for authentic connection and career acceleration. She has an extensive background in developing and managing successful programs and leading high-functioning multi-disciplinary teams. She is an accomplished professor, coach, trainer, and group facilitator who has merged her Master of Social Work degree and over 20 years of diverse work experience into a thriving business. Nicki Sanders Leadership Consulting helps businesses recruit and retain the best employees and helps women in mid-level management Get Promoted to the job of their dreams.
© 2020 Copyright Protected. ALL RIGHTS ARE RESERVED.