I began my January 2020 Career Acceleration Series with an introduction of the theme, "begin with the end in mind". During the final week I focused solely on the end – your goals. (I invite you to head to the Nicki Sanders Leadership Consulting page to catch the replays)
1/26/20 – Be Consistent
1/27/20 – Set SMART Goals
1/28/20 – Write Your Goals
1/29/20 – Share Your Goals
1/30/20 – Visit Your Goals
1/31/20 – Strategize Your Goals
Throughout the month of January, I offered short, easily implementable tips to help you accelerate your career. If you desire or require additional hands-on or customized support, I am offering you the opportunity to schedule an individual career strategy session this February for a special Valentine's Day discount. Yes, you deserve one-on-one attention.
A strategy is a long-term plan on what to do to achieve a certain goal or a method or plan chosen to bring about a desired future, such as achievement of a goal to a problem. A strategy is what we broadly intend to do to reach our long-term goal or objective. My favorite definition comes from business dictionary, "the art and science of planning and marshalling resources for their most efficient and effective use". Strategy generally involves setting goals, determining actions to achieve the goals, and mobilizing resources to execute the actions. A strategy describes how the ends (goals) will be achieved by the means (resources).
A Career Acceleration Strategy Session allows you 60 minutes of uninterrupted time with me to accelerate your career. You and I will work together to generate ideas and creative solutions to your employment questions, issues or situations while developing customized strategies to help you reach your career goals.
Schedule your Career Strategy Session to gain insider insight from a hiring manager and professor. This Career Strategy Session is your unique opportunity to receive get new information and new perspectives to get unstuck, maintain your motivation, and welcome a new cheerleader to your career acceleration team. The regular investment is $297. In honor of Valentine's Day, you can gift yourself a Career Acceleration Strategy Session for the investment of $149 through February 14, 2020.
THE PROCESS
Click the link below and make the $149 investment to move your career forward.
Complete the questionnaire you are sent via email prior to our session, to maximize our time together.
Schedule our time together and come to our call with an open mind and ready to learn.
REGISTER for your Special Career Acceleration Strategy Session by 2/14/20.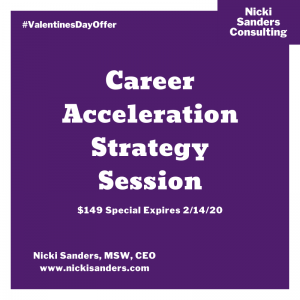 Nicki Sanders, MSW, CEO, is a travel and cupcake lover with an aptitude for authentic connection and career acceleration. She has an extensive background in developing and managing successful programs and leading high-functioning multi-disciplinary teams. She is an accomplished professor, coach, trainer, and group facilitator who has merged her Master of Social Work degree and over 20 years of diverse work experience into a thriving business. Nicki Sanders Leadership Consulting helps businesses recruit and retain the best employees and helps women in mid-level management Get Promoted to the job of their dreams.
© 2020 Copyright Protected. ALL RIGHTS ARE RESERVED.